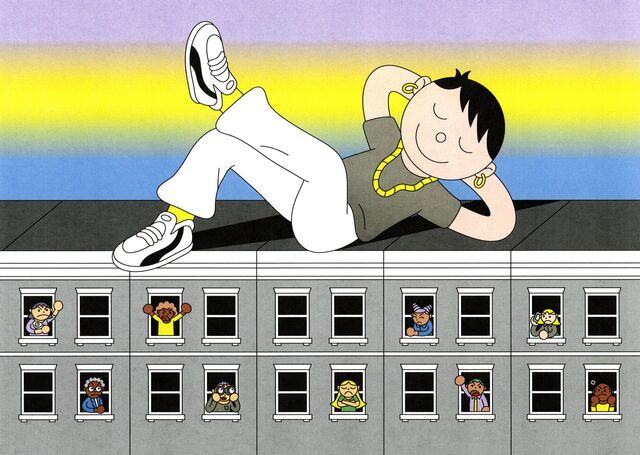 If you have a modest income but access to lots and lots of cash, New York City has an apartment ownership program that's right up your alley. Even if it wasn't meant for you at all.
The changes at the building in Brooklyn's Williamsburg neighborhood began in 2009, when a guitar shop owner whose father was a renowned art appraiser purchased a four-bedroom apartment. His mom lent him the money. Then came a writer who borrowed from her mother, a psychologist. A movie production manager and her partner, a photo director, bought their unit with a loan from her father, a physician in Maryland. A flurry of additional purchases without mortgages followed, including by a Shakespearean actress whose father lives in a terraced penthouse overlooking Central Park and a fashion designer whose father is a gynecologist in California.
Similar colonies of young people with creative sensibilities and well-off parents have taken root in Williamsburg for years, but the gentrification of this particular six-story building on South 2nd Street had a surprising set of enablers: the taxpayers of New York. It's one of about 1,000 properties across the city that receive a special property tax break created to make homeownership affordable for low-income people. The building had income restrictions, and these buyers met them. At the same time, they had access to a lot of cash, which they used to score their units at well below market prices. Never mind their wealth or their parents'; the tax break doesn't require any limit on assets or preclude gifts.
The children of America's wealthy are quietly sewing up deals like this in some of New York's most desirable neighborhoods, in buildings known as Housing Development Fund Corporation cooperatives, or HDFCs. These buildings were at one time in financial (and often physical) distress, and many are still shunned by conventional mortgage underwriters—hence the need for buyers to pay cash. Many are no longer cheap, because the agreements that once limited resale prices have expired. But even at prices that can crest well above $1 million, they're discounted to the market, because of the income limit on buyers and the lack of available financing in some cases. And the taxes can be remarkably low. On South 2nd Street, the owners enjoy annual property tax discounts of roughly 70%.
The tax break was designed to be simple—too simple, as it turns out. The program sets a maximum taxable value for every HDFC unit across the city. This year it's $11,079, in a market where the median price for a home has risen to $770,000. Because of this system, half the aggregate tax benefit will go to the top 20% of eligible buildings by value. Struggling buildings in poorer areas, meanwhile, will get no benefit at all. Their values are too low for the tax break to have any effect, and because of their HDFC status, they don't get an abatement that most market-rate co-ops receive. Dozens have been foreclosed on in recent years for unpaid taxes.
In short, because of inadequate rules, poor design, and decades of lax oversight, these low-income tax subsidies are being scooped up by the well-to-do. "They're just gaming the system," says Penny Gurstein, an expert on affordable housing who directs the Housing Research Collaborative at the University of British Columbia. "This is now just being used as a playground for the rich."
Across the U.S., studies have shown that local property tax systems, which raise more than $500 billion annually, are deeply unfair, favoring the wealthy and systematically applying higher effective tax rates to lower-valued properties. New York's outcomes are among the most unequal. But even in a system shot through with inequalities, the exploitation of the HDFC program by affluent bargain hunters stands out.
HDFC sales are infrequent, and not all of them go for big-dollar prices. Nonetheless, it happens often enough that the city's Department of Housing Preservation and Development acknowledges that "strong reforms are needed." The agency made a run at that in 2016 but failed in the face of what a spokesman called "strong objections from many HDFC co-ops and their elected representatives." Since then, the most desirable HDFC apartments, swept along by the forces of the New York real estate market, have only drifted further beyond the reach of the people they were set up for.
An HDFC cooperative exists, per New York state law, "exclusively to develop a housing project for persons of low income." That doesn't stop some HDFC buildings from advertising how lax they are about enforcing income limits. Bloomberg Businessweek found dozens of listings dating to 2010 that failed to mention income restrictions for the building or plainly said there were none. A four-bedroom unit at 238 W. 106th St. was listed this year for $1.85 million and advertised as having "no income restrictions," despite city records showing it benefits from the exemption for low-income housing. The building's HDFC status lowered its taxable value this year by $3.6 million and cuts its owners' tax bill by more than $400,000. A building manager at ABC Realty, which manages the building, told Bloomberg Businessweek she would inform the brokers that "they need to be compliant."
When income limits are enforced, the rules can be as complex and unintuitive as everything else about New York City real estate. Depending on its governing documents, a building will set the limit by various methods. One looks like this: Take the annual common charges for the unit, plus the estimated annual utilities, and multiply that by six (or seven if the buyer's family is big enough). Then add 6% of the seller's original purchase price. That's your income ceiling. Some buildings keep it simpler—and perhaps get to a higher number—by using a percentage of the area median income, or AMI, for the New York metropolitan area. Buildings that are committed to low-income ownership might set the limit at 80% of AMI, which matches the city's definition of low-income. But an HDFC can go as high as 165% of AMI. This year that translates to $137,940 for a single person and $196,845 for a family of four.
For buildings with high prices and tight income caps, gifting is just about the only way a qualified person can buy some of these apartments, especially if an all-cash deal is necessary. The upshot is that a child of well-to-do parents is something of a perfect buyer.