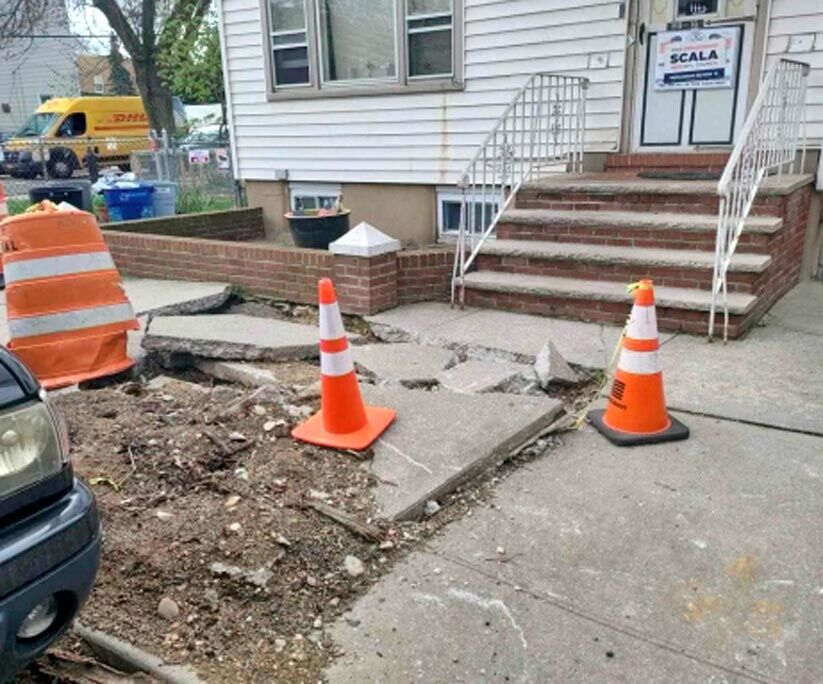 Shards of cement are scattered in a pile in front of 88-16 102 Road in Ozone Park. The stretch of sidewalk looks like it was attacked by a demolition crew.
Only it's no temporary construction site. It's been like that for a year since a downed tree was uprooted and disposed of in the wake of Tropical Storm Isaias.
Two years ago the city announced that it would no longer charge homeowners for sidewalk damage caused by city trees and promised to ramp up sidewalk repairs in problem areas.
A year after Tropical Storm Isaias pummeled the borough, collapsing trees and power lines, and hitting especially hard in South Queens, Ozone Park still bears the evidence that the city has not been living up to Mayor de Blasio's promise about sidewalk maintenance or repair.
In the wake of that storm, the Chronicle documented the widespread instances of poor arboreal health in Ozone Park that led to a large number of downed trees. Now over a year later, the Ozone Park Residents Block Association has begun calling out the city's failure to replace the sidewalk in the areas where uprooted trees disrupted the neighborhood's pedestrian fabric.
"In what can only be described as reckless, careless, a dereliction of duty, lack of concern, failing to protect our residents, amongst the many adjectives I can use, the City of NY has dropped the ball on our residents," wrote Sam Esposito, the civic group's president, in a press release calling attention to the problem.
The group listed seven sites in the neighborhood where it says trees overturned by Tropical Storm Isaias turned the surrounding sidewalk into a pile of rubble that has yet to be repaired by the city. In five of the sites, Esposito said that he had coordinated with the homeowners, but he ensured that a 311 complaint was filed in each case.
Unfortunately, a long wait time for sidewalk repair is not uncommon, despite recent efforts from the city to correct the issue.