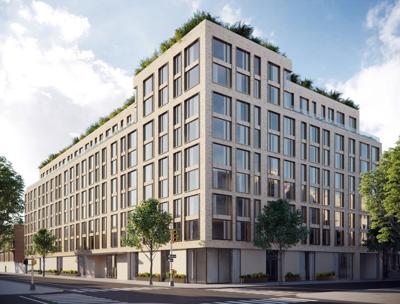 Adjacent to Rufus King Park in Jamaica will be a new housing complex valued at $110 million, on which Zara Realty, a real estate firm that provides apartment units in Queens and Long Island, is expected to break ground very soon.
Ismael Leyva Architects and Monadnock Construction designed the project and are based in Manhattan and Brooklyn, respectively, according to the housing provider. The building will be energy efficient, have 223 units and a state-of-the-art HVAC system, nine stories and 218,000 square feet.
The apartment complex will be located at 153-10 88 Ave., a two-minute walk from the park, according to Google Maps.
The apartments will be studios to two-bedroom units with energy-saving appliances. Thirty percent will be affordable homes, while the remainder will be at market rate, according to Zara Realty.
The building will have a solar roof capable of producing 69 KW, a 169-space valet parking garage that has 10 electric vehicle chargers, a 1,272-square-foot fitness center, a 3,167-square-foot recreational space, a 5,449-square-foot roof terrace with gardens and seating areas and storage units.
There will also be a 6,480-square-foot community facility space on the ground floor.
"Manhattan has Central Park, Brooklyn has Prospect Park, and the beautiful and historically significant Rufus King Park is an absolute jewel for the people of Queens," said Tony Subraj, co-managing partner for Zara Realty, in a statement. "Our company's ethos centers on quality, well-located buildings that are a complementary part of the community. This has been a key part of Zara Realty's success for the past four decades."
Despite the company's endeavors — it owns at least 2,500 rent-stabilized units in 45 buildings in Jamaica alone — it was hit with a civil suit in 2019 for allegedly charging thousands of low- and middle-income tenants with illegal fees and rents or requiring them to sell illegal leases, according to a 52-page complaint from Attorney General Tish James.
The real estate firm or affiliated entities have allegedly "spent years evading and circumventing rent stabilization laws in order to scam tenants out of thousands upon thousands of dollars," said James.
Renters were allegedly asked to pay for keys, room reservations, advance rent and excessive security deposits that were three to four times the monthly rent, according to the complaint. Some tenants allegedly paid upwards of $11,000 simply to move into a rent-stabilized apartment.
Zara did cooperate with the Tenant Protection Unit and the Division of Housing and Community Renewal to resolve any issues deemed "potentially unlawful involving rent regulation" but said that some allegations made in a civil suit were "inaccurate." It also lost a bid to dismiss the lawsuit in 2020, according to the therealdeal.com, a real estate news outlet.