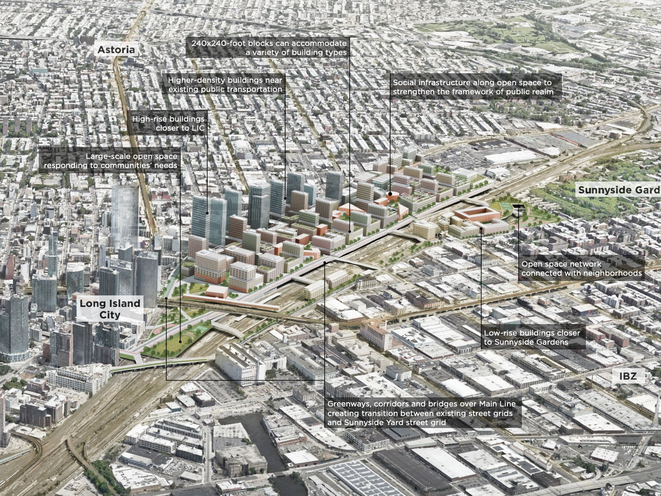 Gothamist
The city has unveiled a massive plan to deck over Sunnyside Yard to make space for 12,000 affordable apartments in Queens.
A sweeping master plan for the project details a new development—which would take decades to complete—would include 100 percent affordable apartments across 140 acres of land. Some 115 acres of the land would be created by "decking over" the top of the regional rail yard.
The city sees Sunnyside Yard development as a "once-in-a-century opportunity" to bring thousands of new apartments to Queens, which currently gains 4,000 new residents every year, with hundreds of thousands of immigrants landing in Queens in the past several decades, according to the executive summary.
"If the borough is to remain an inclusive home to New Yorkers of all backgrounds, then it is imperative to plan for its future growth," according to the plan.
Of the 12,000 apartments, half would be for very low-income families, about 30 to 50 percent of the area median income (currently $29,000 to $48,000 annual salary for a family of three.) The units would be rent-stabilized.
The other 6,000 would be for moderate-income households through a "21st century version" of the Mitchell-Lama housing program, allowing for home ownership.
By decking over about 80 percent of the rail yard, allowing for rail operations to continue below, the project is seen as way of "creating" new land for housing, schools, libraries, and connecting neighborhoods currently separated by the yard. About 780 trains run through Sunnyside Yard everyday.
"We're running out of land in New York City, and it is harder and harder to find places for real affordable housing," the head of the EDC, James Patchett, told the Wall Street Journal. The total cost of decking, streetscape changes, and structures for utilities and below-deck train operations would be about $14.4 billion, according to the newspaper.
Working poor and the shrinking middle class have to wait 10 years for an affordable place to live?