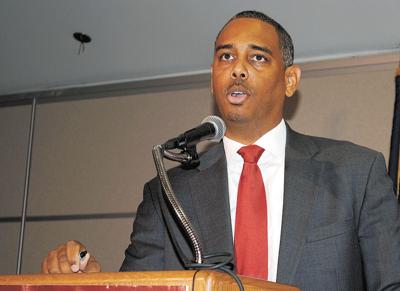 Ruben Wills, the former city councilman in District 28 who was convicted of multiple counts of fraud and grand larceny, filed this past weekend with the city Campaign Finance Board to run against Councilwoman Adrienne Adams (D-Jamaica).
Wills, who was elected in 2010, went to prison in 2017 after a jury found that he was guilty of using over tens of thousands of dollars of government funds to buy personal items.
Though the City Council recently passed a law that would disqualify any person who has been convicted of certain felonies involving public corruption from running for City Council, Gothamist first reported that the law is unlikely to apply to Wills' case after an appeals court reversed his conviction.
The appellate judges found that former Queens Supreme Court Justice Ira Margulis stopped several witnesses from testifying in Wills' defense.
The court found that Wills was "deprived of his 'right to present evidence by witnesses of [his] own choosing [which] is a fundamental ingredient of due process.'"
Gothamist reported that Attorney General Letitia James has not decided yet whether to retry the case, but Wills' lawyer, Kevin O'Donnell, opined to the website that it would not be worth spending public funds on a second trial, when Wills has already served a two-year sentence.
Wills, who did not return multiple attempts by the Chronicle to get in touch for this article, told Gothamist that his experience in prison has got him to think about a set of criminal justice policy reforms.
So far Adams has raised about $40,000 in funds for her re-election campaign.
Two other candidates have recently filed with the CFB to challenge her for the seat.
A look at Wills' social media pages suggests that his drive to return to public office never left him during his imprisonment. Wills never updated his official Facebook or Twitter pages to reflect the fact that he no longer held his Council seat.
"I am the Councilman representing the New York City Council's 28th District, covering the Richmond Hill, Rochdale, South Ozone, and Jamaica sections of Queens," reads the bio on his Twitter page that he regularly posts to.
To quote George Costanza "It's not a lie if you believe it". Makes a lot of sense why Cuomo is going to ride his term out and run again despite all of his scandals.