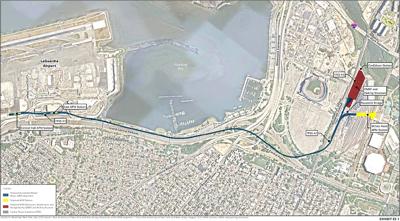 An environmental study released Monday by the Federal Aviation Administration appears to have cleared the way for construction of an AirTrain route to and from LaGuardia Airport.
In signing the document approved, David Fish, director of the Office of Airports for the FAA's Eastern Region, wrote that "after careful and thorough consideration of the facts contained herein ... [I find] that the proposed Federal action is consistent with existing national environmental policies and objectives ... of the National Environmental Policy Act of 1969."
The Port Authority of New York and New Jersey, which is seeking to build the link between LaGuardia and the Mets-Willets Point stop on the No. 7 subway line, needs FAA approval in order to access federal airport improvement funds.
The agency, with Gov. Cuomo's backing, says the project is needed to decrease travel time between LaGuardia and Midtown and Downtown Manhattan.
Residents in and around East Elmhurst and environmental organizations have opposed the plan, which would construct the elevated rail along the Flushing Promenade.
Their objections include loss of parkland, the impact of noise, vibrations and traffic during construction, and the visual impact of a raised structure along the Promenade and Flushing Bay.
The FAA is expected to issue its final record of decision in 30 days. If approved, major construction is expected to begin in March 2022, with limited work beginning as early as this June. It is estimated that the system would be fully operational by December 2025.
The entire 628-page report, including a 46-page executive summary, can be read or downloaded online at lgaaccesseis.com.