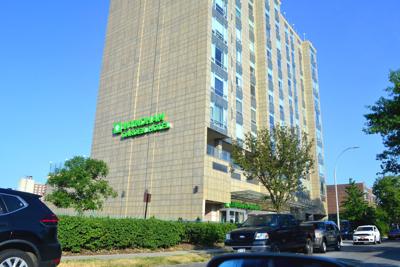 Signs for the Wyndham Garden Hotel in Fresh Meadows came down sometime in the last few months, but it will continue to serve as a transitional community for the formerly incarcerated through the end of the year.
The 61-27 186 St. hotel has been used as a home for formerly detained individuals since April 2020.
"All hotels are under contract, and will remain open, through the end of 2021," B. Colby Hamilton, the chief of public affairs at the Mayor's Office of Criminal Justice said in an email to the Chronicle. "The City is committed to all of our transitional facilities, including those in Queens, that provide those returning from incarceration a much-needed home base of support as they work to reintegrate into our communities. The Mayor's Office of Criminal Justice and our partners inside and outside government are working tirelessly on the next phase of the program in the new year."
Kandra Clark, the vice president of policy and strategy at Exodus, the group overseeing housing at the hotel, told the Chronicle that the group has not heard from the city about a contract extension date. The staff is working with the 116 residents to help them find permanent housing and employment.
The Fresh Meadows hotel is independently owned and operated as a franchise and hasn't been affiliated with Wyndhman since September, according to the chain's global communications director.