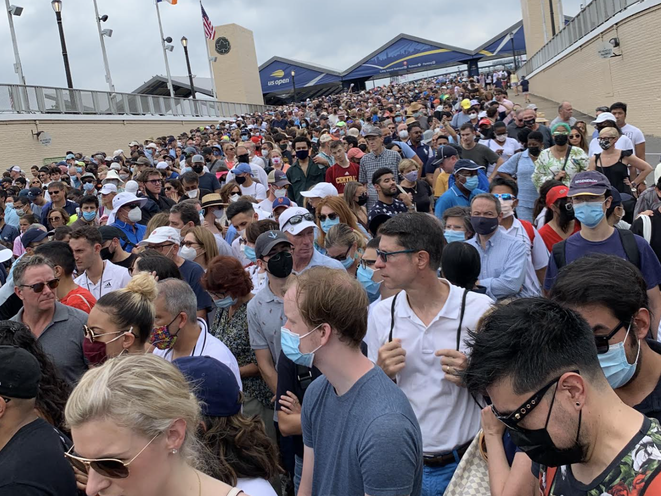 Tennis fans who flocked to the first in-person U.S. Open in two years were forced to endure hours-long lines on Monday, leading to "completely chaotic" and dangerous crowding outside the stadium, according to attendees.
The full capacity tournament drew thousands of visitors to the Billie Jean King National Tennis Center in Flushing Meadows–Corona Park in Queens. But while the event was slated to begin at 11 a.m., fans said they were forced to wait outside for close to 2 hours — keeping them from some of the early matches and leaving attendees at risk of heat-related illness.
Jessica Pearson, a Greenpoint resident who previously worked at the U.S. Open and has been coming to the tournament for more than two decades, said the lines and confusion were unprecedented.
"It was out of control," said Pearson. "There was no crowd control from the stadium all the way back to the subway."
In a statement, the U.S. Tennis Association said the delays were primarily caused by fans bringing an "inordinate number of bags this year." They also said that patrons had arrived at the gates earlier than usual. "Previously, the number of patrons arriving to the grounds prior to 11 a.m. averaged approximately 10,000," the group said. "This year, the number arriving prior to 11 a.m. was only 3,000."
Others speculated that a last-minute decision to require COVID-19 vaccinations at the tournament was to blame. The USTA announced the mandate on Friday, after facing criticism for their original plan not to require vaccines or masks.
Pearson said the hold-up seemed at least in part due to broken metal detectors and a lack of staff. However, the association denied that vaccination requirement was a factor.
"The slow down seems to be centered on the Bag Check area," the USTA statement noted. "The process to check proof of vaccination seems to be working smoothly and is not a major contributor hampering entrance to the site.