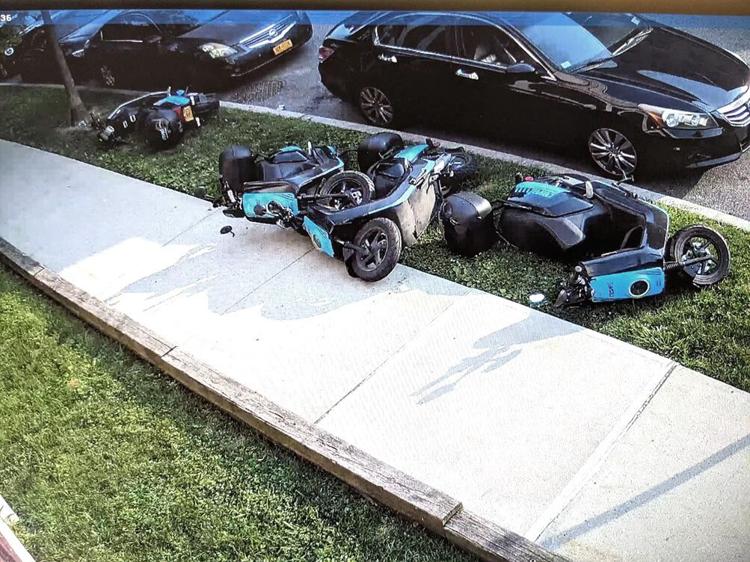 The image is a stark one.
Four of the sky-blue Revel scooters that have become ubiquitous on street corners in some sections of Forest Hills were photographed last week, not in the street waiting to be rented by a new rider, but on the other side of the curb, laying on their sides in the grass on a side street just off Union Turnpike.
At least one appeared to be damaged, with its mirror laying a short distance away on the sidewalk. The photo doesn't indicate whether, the damage was incidental to the vehicles being moved by someone looking for parking or done with extreme prejudice.
The scooters began appearing in Forest Hills back in the spring. Unlike Citi Bike vehicles that are taken from and returned to specific docking bays, the scooters, under a city-approved program, can be left on the street for the next renter to pick up and drop off when finished.
While they must adhere to all city parking and traffic rules, they have not always sat well with some Forest Hills residents, who have complained about abuses on both fronts.
The apparently damaged scooters even came to the attention and social media accounts of Tom Verni, a retired NYPD detective who now works as a crime and law enforcement consultant for media outlets. He also is a former resident of Forest Hills and Kew Gardens. Verni, too, said the photo appears to show that at least one of the scooters was damaged.
"They've been springing up like dandelions all over the place," Verni said. "With Citi Bikes, you have stations that take up a quarter-block, half a block. The Revels people leave them just anywhere. It's becoming a nuisance."
Verni said he has seen the scooters parked illegally; parked in front of driveways; and parked between cars, often leaving them inadequate space to pull out without physically moving the scooters. He has also seen them parked at curbs on alternate-side-of-the-street parking days when street sweepers must detour around them.
"All true. Those are the calls we've been getting," said Frank Gulluscio, district manager of Community Board 6. Gulluscio said Revel officials did speak before CB 6 before the program kicked off, but that was it.
"It's not like we had a say," he said. "The city had already approved it."