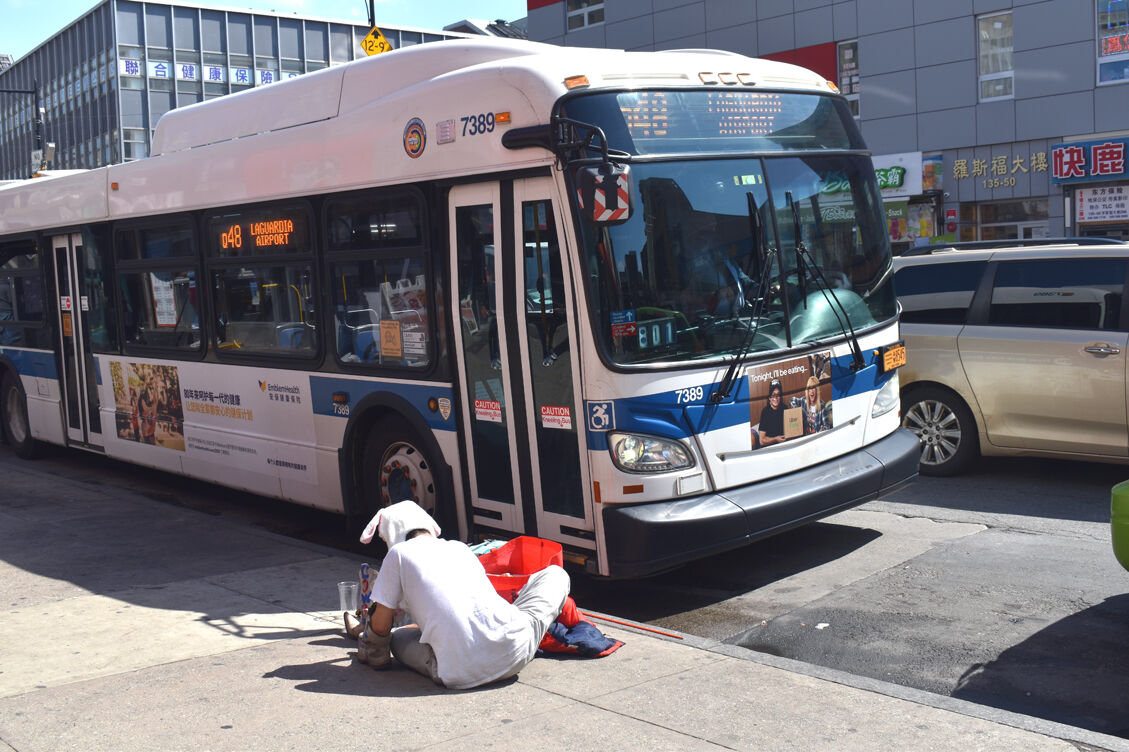 Panhandling has plagued Flushing for years. Homeless individuals set up camp and ask passersby for loose change along the Main Street commercial corridor, especially in front of the Long Island Rail Road and 7-train stations. Handmade cardboard signs line the roads between street vendors, often positioned beside an empty Big Gulp cup and a sleeping body.
The Downtown Flushing homeless population has been steadily rising over the last year — tents have popped up on Prince Street directly across the road from the La Jornada food pantry, which draws hundreds of people each day in a line that often stretches for several blocks — but the small business owners who share the district with the beggars have noticed an increase in their hostility as well.
"Some of them get drunk and they just walk into the restaurant and they take the customer's seat and sit there and start yelling and screaming," said a 40th Road restaurant owner who asked to be identified as Vincent. The employees ask the intruders to leave, but they typically refuse and stay seated for up to half an hour. Their abrasive behavior and lack of face coverings drives customers away, the owner said.
Beggars had asked his customers for money in the past, but Vincent said the homeless population recently seems more interested in harassing them and damaging his property. Just the night before, he said, he caught one man using his outdoor seating venue as a toilet.
The incidents happen multiple times a week, and have been becoming more aggressive. Sometime in March, which Vincent said was the worst month yet, a man with liquor in hand walked to the second-floor office and hounded the women inside. The door now stays locked.
Vincent has only called the police twice. In both instances, the homeless persons had left the building before officers arrived, but he did not feel comfortable detaining the intruders himself. Threatening to call the police doesn't affect their behavior either — Vincent said the homeless don't seem intimidated by the idea of arrest.
"Before the pandemic, the safety environment was better. Every year was improving, but [during the] pandemic, it's getting worse," he said.
There is no perfectly reliable data on how many New Yorkers sleep on the streets each night because the number varies from day to day, but it was estimated at 3,500 to 4,000 before the pandemic. The number of individuals sleeping in shelters each night has been decreasing, but is not indicative of the homeless living outdoors or in the subways.