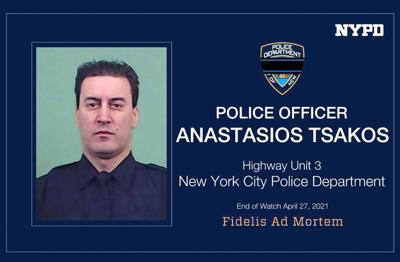 A highway officer was responding to a fiery car crash in the early hours of April 27 when he was struck and killed by an allegedly drunk driver.
Anastasios Tsakos, a 14-year NYPD veteran and father of two young children, was investigating the scene of an earlier, fatal collision at the time of the 2 a.m. incident.
"The absolutely tragic events of this past evening highlight, again, the many, many dangers our brave officers face every day and night — in all aspects of their critical work," Police Commissioner Dermot Shea said in a press conference Tuesday morning, adding that the incident "amounted to a completely avoidable chain of events."
According to police, Tsakos was one of many officers responding to a vehicle collision on the Long Island Expressway at the Clearview Expressway just 30 minutes past midnight. One of the vehicles was in flames.
Tsakos was diverting traffic from the scene, when 32-year-old Jessica Beauvais — who had a suspended license — came speeding along, police said. She swerved to avoid other cars and collided with Tsakos, who was standing next to his marked vehicle.
District Attorney Melinda Katz said Beauvais fled from the crash and attempted to exit the Horace Harding Expressway, where her car jumped the curb and mounted the sidewalk. Police surrounded her and she tried to flee again by putting the car in reverse but rammed into the police vehicle behind her twice before coming to a final stop and being apprehended.
Shea reported that Tsakos, who had been struck head on, was knocked onto a nearby grassy area. He was taken to NewYork-Presbyterian Queens in critical condition, but was later pronounced deceased.
Beauvais, of Hempstead, LI, is being held pending arraignment in Queens Criminal Court on a 13-count complaint. The charges include two counts of vehicular manslaughter, drunk driving, colliding with an emergency vehicle and leaving the scene of a fatal accident.
Two hours after the crash, it was discovered that Beauvais' blood alcohol content was 1.5 percent, the D.A.'s office said.
If there was a silver lining to the tragic death of Denis Mullaney, the commanding officer of the 107th precinct in Queens who killed himself this week, it was the call to action made by the priest who officiated his funeral — where he implored the NYPD to do more to "break the silence" around suicides within their ranks.
Father Joseph Fonti, 54, told the mourners at the packed St. Mel's Catholic Church in Flushing Friday that he was all too familiar with suicide, both within his own family and among his friends, some of whom are cops.
"People are fragile, they break," Fonti told the crowd of roughly 250, including row after row of somber police officers. "If you suffer from cancer people run to you and they do anything for you. If you tell them you suffer from mental illness or anxiety they try but they get scared or they get uncomfortable."
"We need to address it in our own families and in the church and in the Police Department. The police in particular have been so tight-lipped about this issue," he urged.
Mullaney, 44, a 20-year police veteran, shot himself in his parked squad car Monday on Underhill Avenue near the Brooklyn-Queens Greenway. He was the NYPD's first suicide of 2021.
Typically four to five NYPD officers commit suicide every year. But when 10 officers killed themselves in 2019, the department under then-Commissioner James O'Neill instituted changes, such as allowing officers in crisis to keep their badges even while handing in their firearms to de-stigmatize asking for help. There were four NYPD suicides in 2020.
"The time for silence is over," Fonti said.
Mullaney, who was made commander of the 107th precinct in Queens last fall, called one of his superiors as well as family members to warn them he was feeling suicidal and reportedly apologized in advance, police sources have told The Post.
'"He knew he could call in a 10-13 – the code for an officer needing help," his uncle Eddie Mullaney, 80, a retired NYPD policeman, said at the funeral. His fellow officers as well as members of the large Mullaney family, which includes several generations of police officers, would "have come running."
"We would have called in our own 10-13," the elder Mullaney said. "We had Denis' back. He knew that."
Instead Mullaney, who was going through a divorce from his wife, Amanda, a fellow police officer, and who had recently moved back into his childhood home with his widowed mother, "made a different choice," his uncle told the congregation.
The normally upbeat Mullaney, who leaves behind a young son, Denis Patrick III, had reduced crime during his seven months at the precinct, but had been "hurting" for the past five or six weeks — and his despondency seemed to come on "quick," his uncle said.