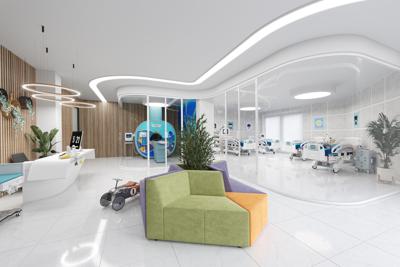 A mixed-use building that is part medical center and part hotel is on track to open in the next few months, developers recently announced.
The new 18-story mixed use tower at 42-31 Union St. in Flushing will be home to the Eastern Mirage Medical Center and the Eastern Mirage Hotel and will be operational before September, Fleet Financial Group announced.
The medical center will incorporate the hotel amenities into its patients healing process. Those staying in the healthcare facility will be offered access to an indoor pool, spa and fitness center, as well as a Michelin-rated restaurant and bar.
"Eastern Mirage Medical Center incorporates the most advanced technology available to hospitals today, along with a more welcome, hospitality-inspired setting," Richard Xia, president of Fleet Financial Group, said in an April 8 statement. "By creating a symbiotic relationship with the building's healthcare facility and luxury hotel, we hope to create a steady flow of visitors to both businesses."
According to Fleet Financial Group, the medical center will utilize cutting-edge amenities, such as a five-layer curtain wall providing enhanced sound insulation and natural light, as well as environmentally friendly materials and systems, high ceilings, and Turkish marble floors.
Patients will have an almost completely touchless experience, as well: The center will use facial and voice recognition features for offices and elevators.
The plans for the building — which will be the tallest in Flushing — also include more than 34,000 square feet of outdoor place, including an all-glass roof terrace with a panoramic view of New York City.