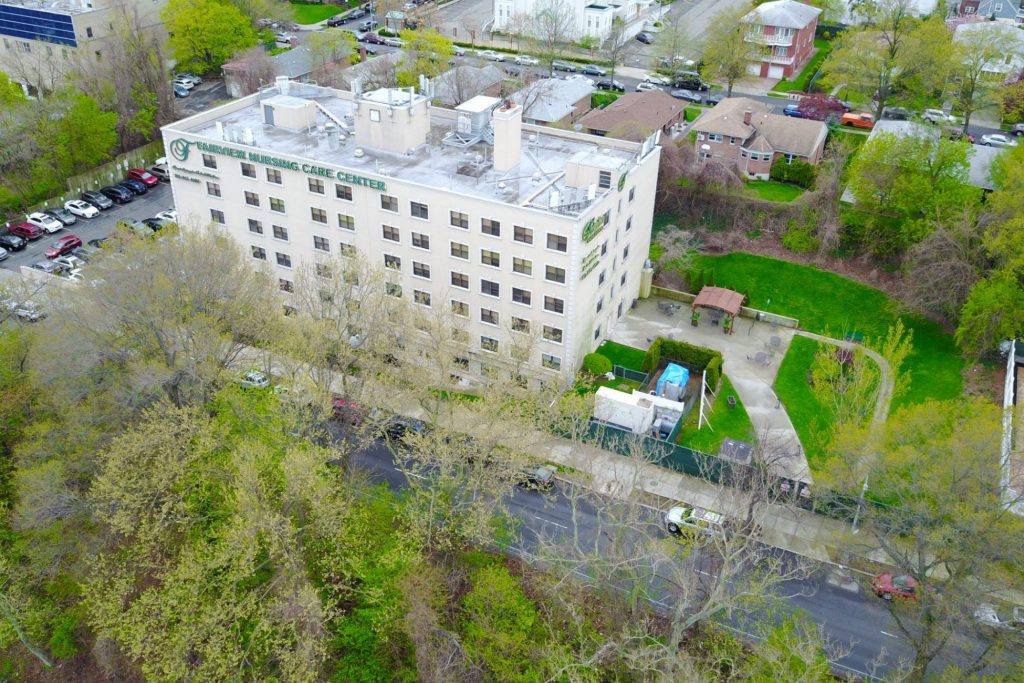 Gothamist
On Monday morning, at a private nursing home in Queens, a registered nurse arrived for what she thought would be a job interview. She found more than a dozen prospective applicants, all of them responding to the same urgent, unsolicited text message from the Fairview Rehab & Nursing Home.
They were whisked through a brief training session and hired on the spot.
The nurse leading the orientation, who'd started at the facility only three days earlier, explained that much of Fairview's regular staff and management are out sick with COVID-19. There are more than forty residents for every nurse, she said, before asking who in the group could begin a double shift immediately.
The situation inside disturbed even battle-hardened medical professionals. According to multiple healthcare workers who spoke to Gothamist this week, a majority of the 200 residents at Fairview are suffering from acute pressure ulcers — gaping sores on their shoulders or elbows or pelvic bones, indicating they haven't been turned over in days.
One nurse was so horrified by what she saw she began taking detailed notes of her shifts, which she shared with Gothamist. Her accounts, relayed here, were confirmed by multiple staff members at Fairview. (We've agreed to withhold the names of some of the healthcare workers, because they were not authorized to speak to the press.)
"They're slumped over in bed, just laying there rotting," said one nurse. Another staff member, reached by phone mid-shift, said she wasn't sure who was in charge at Fairview anymore. "It's crazy in here right now," she said. "Everything you're hearing is true."
Left unsupervised, some of the new personnel roamed the five-story building, finding shortages of gloves, hand sanitizer, stethoscopes and, most concerningly, medication. When they can't locate a certain pill, they're told to note that a resident refused it, rather than record it as out of stock, according to two of the employees.
Tests for COVID-19 are hard to come by at nursing homes across New York, and while nurses say they were told of at least one positive patient at Fairview, it's not clear who else may be infected. Many of Fairview's residents are in need of medical care typically offered at hospitals, employees said.
Some nursing assistants, newly out of school and certified through an emergency federal waiver, are given high-level tasks. One of them is observed inserting a nasal oxygen cannula upside down. The potentially deadly error is caught in time, but not before sending the elderly resident into a gasping fit of hypoxia.
By the end of their first shift, multiple newly-hired workers had quit, citing fear of being named in an inevitable malpractice suit.
"I don't think anyone is going in there and getting better," said one nurse. "They're in there getting worse."
Repeated inquires to Fairview were not returned.
Press Republican
New York's biggest concentration of COVID-19 deaths has come at state-licensed nursing homes — though the state has so far opted to keep a lid on the identity of the specific facilities.
A total of 860 New Yorkers have died from the virus at nursing homes since the pandemic reached the state five weeks ago, according to new state data.
And while the Cuomo administration in recent days enhanced the amount of data it makes available to the public regarding virus infections, the state Department of Health is so refraining from identifying the specific nursing homes where the contagion has taken lives.
The tally of infections at nursing homes and prisons — both representing places where scores of people live in close quarters — is growing daily, just as the state's overall death toll is also mounting.
Total statewide deaths so far stood at 5,489 Tuesday, April 8, up 731 in one day — the highest number of fatalities since the first death last month.
However, late Tuesday, New York City officials said it counted 806 fatalities alone in the city's five boroughs over the previous 24 hours, portending another alarming increase in deaths when the statewide data is updated Wednesday.
Though state officials imposed bans on visits to nursing home patients to curb the spread, patient deaths have now been recorded at nearly 300 facilities across the state. State Health Department officials say they are not revealing the locations of the homes because to do so could violate patient privacy rights.
This might be the tally of all those buried at Hart Island recently, which I believe also includes the under tallied homeless
population