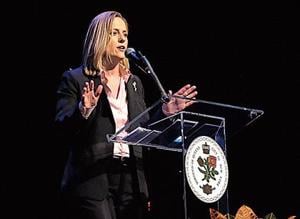 Queens Chronicle
Borough President Melinda Katz last Friday backed Mayor de Blasio's plan to close the jails at Rikers — but came up short of endorsing the construction of a new 30-story lockup on Queens Boulevard to replace it.

Katz, who announced last month that she is running for Queens district attorney, chose what may be her final State of the Borough address to call for an end to the current jail system.
"Let me be clear," she said for emphasis. "I have been, and I remain, a strong supporter of closing Rikers Island.
"It is a moral imperative that we overhaul our city's jail system ... And closing Rikers is an integral part of that.
However, the borough president said, she was "deeply disturbed" that people in Kew Gardens, where a new jail is slated to be built, have not had "meaningful community engagement and input."
She called for the city to "start anew" and come up with a better plan."There's still plenty of time to do it the right way," she said.
Update
:
This is the
Kew Gardens town hall meeting
concerning the jail QB President Katz obligatorily acknowledged in her speech which she did not engage to attend.