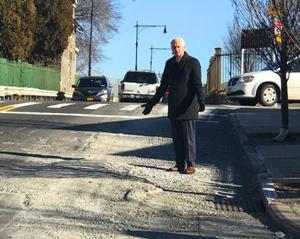 Queens Chronicle
Councilman Bob Holden (D-Middle Village) has been bothered for years by gravel and mounds of concrete spilled on roadways as well as speeding tow trucks.

Now he's got a series of bills to do something about it.
Int. 1354 would require cement-mixing trucks to install certain spillage prevention equipment to avoid materials falling into the roadways. Holden says without the spillage bags, materials like cement and gravel can fall out of trucks and make for dangerous mounds and hazardous conditions.
"When driving around the city, it is common to find mounds of cement or piles of gravel and sand that can be hazardous to drivers, bicyclists and pedestrians alike," Holden said in a statement.
"Before these mounds cause any more accidents, damage to tires, fenders or other parts of a car or bike, or a trip-and-fall incident, requiring spillage bags on all trucks is a simple and easy solution."
This has been a constant sight for years, especially in Queens. Something like this should have been implemented when the Blaz rolled out his "Vision Zero" program
at the start.