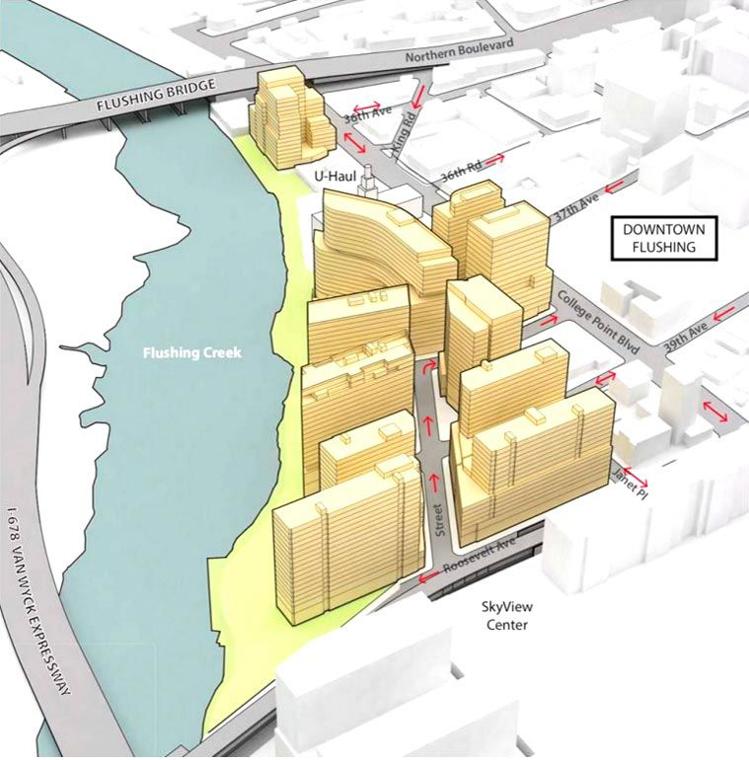 Queens Chronicle
Special Flushing Waterfront District protesters returned brandishing "Housing justice for all" and "The massive waterfront giveaway" signs for the developers' presentation at Community Board 7's Land, Buildings and Zoning Committee hearing Tuesday, Jan. 21.
"You have your signs and that's great, it's no problem. March around with your signs, but please kindly control the tone," District Manager Marilyn McAndrews said at the start of the meeting, begging the protesters not to repeat their chants of the Jan. 13 public hearing meeting that disrupted the nursing home the meeting took place in.
"Flushing community members are concerned with increased congestion, pollution, construction hazards and mass displacement resulting from new luxury development," MinKwon Center, the advocacy group that organized the protest, said in a statement.
The Brownsfield Opportunity Area plan, which allows for redeveloping the 29-acre stretch of waterfront industrial property and surrounding land in Downtown Flushing, aims to extend the district to the waterfront, improve pedestrian flow and vehicular movement, add affordable housing and improve the water quality of Flushing Creek. As the meeting progressed, CB 7 members, who hold the power to make an advisory vote, scheduled for Feb. 10, on the implementation of the plan, found themselves voicing similar concerns to the protesters.
"This is a vacant site. Other than U-Haul there is no activity," said Ross Moskowitz, the attorney representing the project owners in response to a question about displacement, "The increase in this project should not have an impact on the local businesses ... these are local developers. They are long-established owners, operators, tenants, residents. They have invested in this community and will invest in this community."