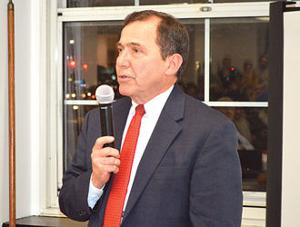 QNS
A day after Mayor Bill de Blasio declared the official date for the Borough President's special election to be March 24, a new, law-and-order challenger announced a last minute bid for the office: former Assistant District Attorney James Quinn.
Though Quinn, a lifelong Queens resident, is reportedly a registered Democrat like the other five declared candidates, both his background and political platform described in the political flyer that was distributed to QNS on Friday makes him stand out among the rest of the field.
"Elect a crime fighter," reads the first page of his campaign pamphlet.
Quinn served as ADA in the Queens County DA's Office for 42 years. His platform promises to fight against many of the recent criminal justice reforms that city and state legislators have championed over the past year.
In the campaign materials, he vows to stop the closing of Rikers Island, to stop Mayor de Blasio from building jails in Kew Gardens or anywhere in Queens, and to push back on the bail reform by allowing judges to consider a defendant's "danger to society" when setting bail.
The platform contains one economic policy idea about working "with businesses like Amazon to bring high paying jobs and careers to Queens."