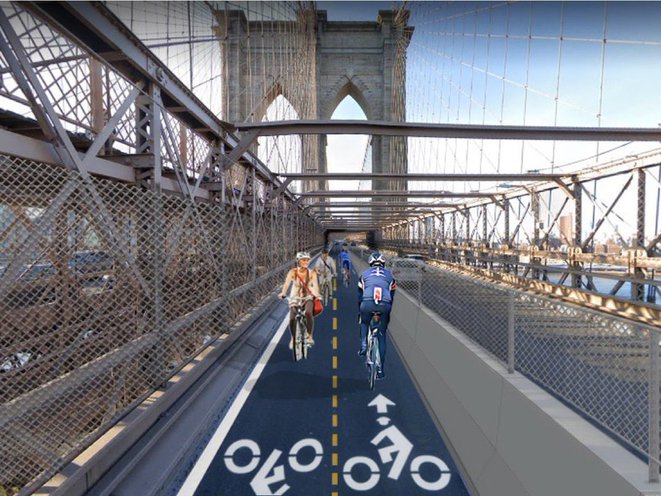 One of the Brooklyn Bridge's car lanes will officially start its transformation into a dedicated bike lane on Monday, June 21st.
The new two-way protected bike path is expected to be completed this fall, at which point the crowded promenade will become pedestrian-only. The plan was previously announced by Mayor Bill de Blasio during his final State of the City address in January.
"The Brooklyn Bridge, one of the nation's most beloved structures, will this year celebrate its 138th birthday," Department of Transportation Commissioner (and Transportation Alternatives marionette) Hank Gutman said in a statement. "Over that long history, the bridge has changed with the times – as horse-drawn carriages were replaced with trolleys, which were then retired with the advent of car lanes. In the coming months, we are going to transform this bridge we all love once again – this time with new bicycle lanes that invest in the bridge's more sustainable future."
This isn't going to work. And what will happen when unlicensed motor scooter riders take over the lanes (another thing that de Blasio thinks will solve itself, even after a woman got killed by one of them in a hit-and-run).