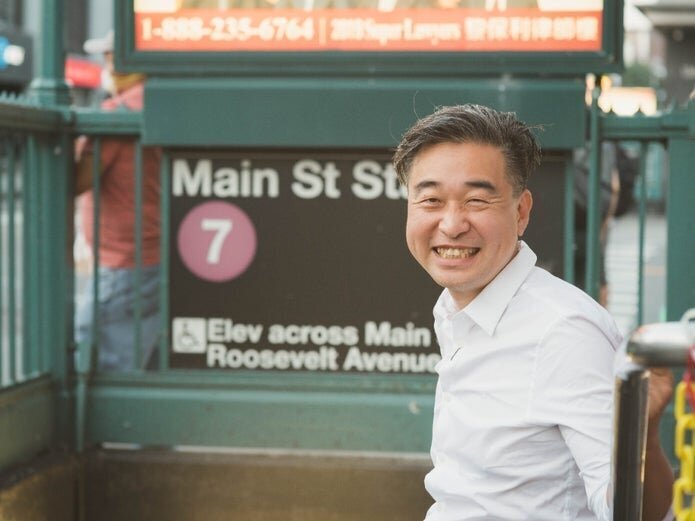 A Queens community board moved forward with efforts to remove one of its members from its ranks Monday night.
Queens Community Board 7 voted 42 to 3, with one abstention, to take the next steps to expel board member John Choe, who's been accused of various acts of misconduct by the board's executive committee. He's denied all allegations against him.
It was the first time in the board's history that expulsion proceedings were initiated.
Chuck Apelian, the board's vice chair, began the process by reading the charges against Choe, which range from unauthorized postings to Facebook to violations of the City Charter.
"This is something that's been going on for a while," Apelian said. "Every time we tried to work things out, it didn't seem to go away."
After a brief spat between Choe and Eugene Kelty, the board's chair, the accused board member was given a few minutes to defend himself.
"This is an embarrassment to the entire community board system," Choe said. "I think this whole charade is a huge, huge embarrassment to the community board and I object vehemently to this entire process. It's absurd."
In order to proceed with Choe's removal, two-thirds of the board had to vote in favor – over 90 percent supported the motion.
"I think that's a very loud comment," Apelian told the Eagle after the vote. "I knew we had overwhelming support but that's a pretty resounding number – that's pretty telling."
Choe received support from both a handful of community board members and several members of the public, who were given an opportunity to speak after the vote had taken place.
"I just see this as an abuse of authority," said Cody Herrmann, a board member, who added that she thought the charges against Choe were "misconstrued."
Herrmann voted against the proceedings, as did members Harpreet Singh Wahan and Choe.
"I do not believe that any of this is fair or justified," said Laura Shepard, who spoke in support of Choe during the public comment period. "This whole thing is nonsense and shame on all of you who voted for it."
The board's executive committee, made up of members Warren Schreiber, Frank Macchio, Lei Zhao, Kelty and Apelian, voted unanimously to take the action against Choe last month. On May 26, Kelty issued Choe with a letter notifying him of the proceedings against him.
Choe, who's running for City Council in District 20, said he hadn't been contacted by the board after receiving the letter.
"No one has explained to me the process or what my rights are," Choe told the Eagle prior to Monday's meeting. "We've tried to contact the borough president's office and it seems like they're tacitly allowing this to happen, even though there's really no credence to any of these allegations."
Queens Borough President Donovan Richards has refrained from commenting on the removal proceedings, despite having appointed Choe to the board against the recommendation of City Council member Peter Koo earlier this year.
"The Queens Borough President's office will let this process unfold and not interfere," a spokesperson for Richards told the Eagle earlier this month.
While the executive committee and Choe have clashed for years, their disagreements came to a head in the lead up to the vote to approve plans to develop the Flushing waterfront in December 2020. Choe, who stood in stark opposition to the plan, called out Apelian for what he alleged to be a conflict of interest.
Apelian, who also serves as the board's Land Use Committee chair, worked as a paid consultant for the development group behind the project. Apelian recused himself from the board's vote on the matter and accused Choe of slander.
On Monday, Choe repeated his allegations to Apelian in front of the full board.
"You are not only embarrassing yourself by doing this, you are actually promoting the corruption that's going on in this community board by taking money from developers," Choe said. "I cannot be silent on that."