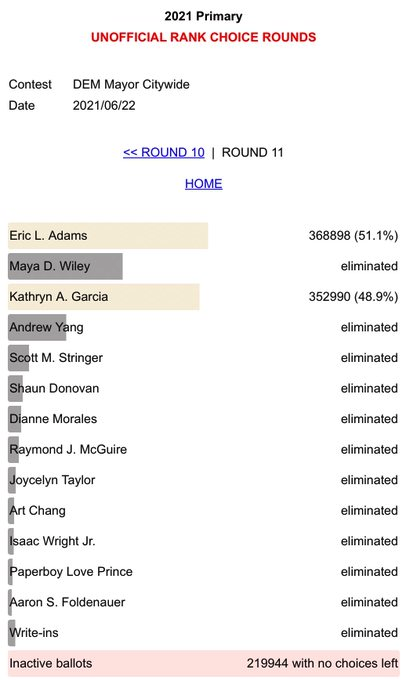 Eric Adams' lead shrunk significantly when the Board of Elections released updated mayoral race results Tuesday.
As of June 29, Adams claims 51.1 percent of the Democratic Party vote, but Kathryn Garcia trails closely behind with 48.9 percent.
On election night last week, Adams took home 31.6 percent of the vote, followed by Maya Wiley with 22.2 percent and then Garcia with 19.4. Andrew Yang conceded quickly despite holding onto fourth place through 10 rounds of ranked-choice voting eliminations.
Wiley had remained ahead of Garcia until the 11th round and was then eliminated.
Democracy, as John Lewis said, is an act. And New York City residents engaged in one of the central acts of democracy! They voted. And they acted when they chose overwhelmingly to adopt ranked-choice voting," Wiley said in a statement following the result release. "I said on election night, we must allow the democratic process to continue and count every vote so that New Yorkers have faith in our democracy and government. And we must all support its results."
Shut the fuck up Maya.