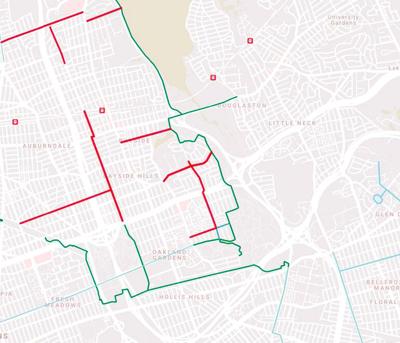 Community Board 11 unanimously voted to approve its Transportation Committee's recommendation for 11 new bike lanes in the area.
Residents' support for the committee's recommended plan was also readily apparent; all of those who took part in public participation spoke overwhelmingly positively of it.
The recommendation comes after a months-long, immensely detailed process; according to Victor Dadras, first vice chair of the board and chair of the Transportation Committee, the committee worked with the Department of Transportation at length in addition to conducting its own research.
Bike lanes have long been a contentious issue in Queens, often regarding single streets. To have not only passed a recommendation of this size, but to have done so unanimously, then, is quite a feat — for bike supporters and board members alike.
"See? We can conquer anything," said Christine Haider, the board's second vice chair.
But in Dadras' view, the debate should never be so complicated. "To me, it's not about us versus them, bikes versus cars," he told the Chronicle. "It's about safety and equity — reimagining our streets as public spaces that everyone can share safely."
The lanes approved by the board are predominately in the western part of the district, most of which the committee said should be protected ones. That is a departure from the DOT's proposal, which has called for many class one and two lanes; both of those put cyclists between drivers and parked cars, whereas some other types offer more protection.
Perhaps the most significant addition is the committee's approval of a protected bike lane with floating parking on Utopia Parkway across the full length of Community District 11. Previously, the DOT had recommended it span 47th Avenue between Utopia Parkway and 188th Street and southbound on 188th Street to the Horace Harding Expressway.
Many bikers are opposed to class two and three lanes, the former of which use sharrows, markings that indicate that bikers and drivers are required to share the road. The fact that this plan calls for many protected lanes, then, has been applauded.
"This unanimous vote shows the broad, popular support for protected bike lanes throughout Queens," said Laura Shepard, Queens organizer for Transportation Alternatives and a Bayside native. "As the bike boom continues, more New Yorkers are biking for transportation and people of all ages are discovering the joy of riding through our parks and on our greenways."
It's no secret that the Transportation Committee went to unprecedented lengths to make it happen. Not only was a new infrastructure subcommittee formed, but CB 11 staff conducted their own study. District Manager Joe Marziliano and staffer Christina Coutinho drove along all of the routes DOT proposed, took pictures and measured the distance to the curb. From there, Bernard Haber, who chaired the Transportation Committee for many years and specializes in transportation engineering, looked at those measurements on city maps in order to advise the subcommittee.
"We've seen here what good committee work can do," Board Chair Michael Budabin said in reference to the panel's recommendation.
There were three routes proposed by the DOT, however, that the board did not recommend, per the committee's safety concerns.