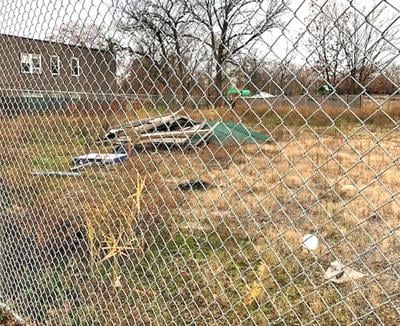 What's going on with the vacant lot on the corner of 154th Street and 11th Avenue in Whitestone?
That's the question President of the Greater Whitestone Taxpayers Civic Association and Community Board 7 Member Kim Cody has been asking since Lot 74 was last occupied in 2010.
Cody said that members of his civic have inquired about the lot, as well. "People are asking, 'What's going on with the property?' over the years. All the sudden, it started overgrowing with weeds," he told the Chronicle. "They go down there and check, and then they see this pile of junk in the middle of the lot."
The site, which spans two addresses on the block, 11-10 and 11-12, was previously occupied by a fruit market and a deli, Cody said. Though the building on the lot was not demolished until roughly 2019, the lot itself has been fenced off since 2015.
The fence seems to have been ineffective. "Kids were still going inside the lot and stuff like this doing what teenagers do," Cody said. "They were drinking and whatever the possibilities were coming apart."
When the temporary, fabric fencing ultimately became tattered as a result of several storms, a chain link one was installed in 2019. Since then, no further construction has occurred, despite rumors that speculated otherwise.
Meanwhile, Tax Block 4538, Lot 74, has continued to deteriorate, and upset surrounding the site has only persisted. Cody said. "People would call up the civic association [and say], 'We're worried about rats or raccoons in there,' and stuff like this," he said. "There's a public school right up the block, and it's a commercial area, there's delicatessens there and stuff, Chinese restaurants — there was a lot of concern about what was going on with the property."
The property in question is, according to the Department of Buildings, owned by Andrew Lester of 11-10/12 154 St. LLC. Lester is currently the senior vice president of construction at Wharton Properties, a Manhattan-based, commercial real estate company.