From yesterday's
Queens Post
:
Council Member Donovan Richards will assume the role of Queens Borough President Wednesday, taking the reins from Acting BP Sharon Lee.

Richards will vacate his seat on the City Council tomorrow and take over as Borough President. He can officially take office Wednesday since the NYC Board of Elections certified the November election results today — making his win official.

Richards will fill the seat held by Lee since Jan. 1. Lee was appointed by former Queens Borough President Melinda Katz when Katz left office to become Queens District Attorney.
There must be a big overdevelopment vote coming up because that's what DR is all about. This move also may shift the special election for his seat to be held sooner, which will favor the Machine pick.
Congrats, Queens, on picking another winner!
Update:
Oh, there's a big one coming alright.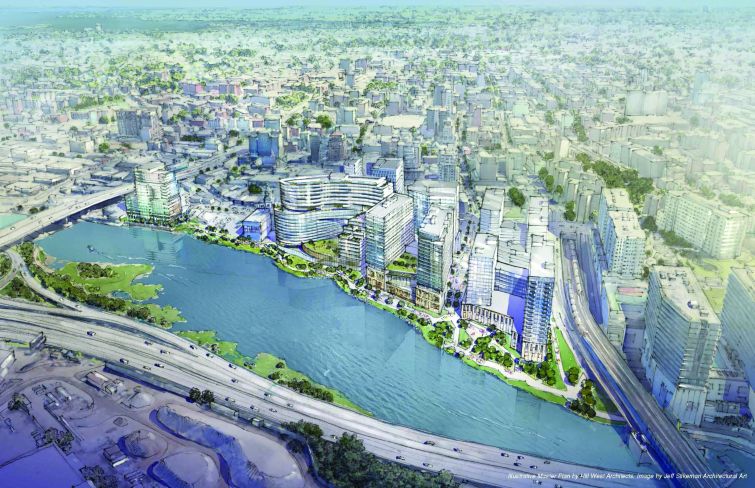 A community battle is brewing in Flushing over a controversial plan to build 13 towers with 1,700 apartments, hotels, retail and office along an industrial stretch of waterfront in eastern Queens. The City Council is expected to vote on the plan in the next month and a half, but the project is buffeted by pushback from unions, local activists and politicians who want more affordable housing and union labor in the sprawling development.
Three Flushing-based developers—F&T Group, Young Nian Group and United Construction & Development Group—are working together on the megaproject, which stretches across 29 acres of waterfront along the heavily polluted Flushing Creek. The group's proposal, dubbed the Special Flushing Waterfront District, calls for 1,725 apartments, 879 hotel rooms, 400,000 square feet of community facility and office space, 286,930 square feet of retail and 1,735 parking spaces.
However, only 70 to 90 of those apartments will be income-restricted because the developers are rezoning just 10 percent of the project area. The city's Mandatory Inclusionary Housing program requires developers to set aside up to 30 percent of their units as affordable housing, but it can only be applied when a property's zoning is changed.
Council approval for the Flushing development, however, hinges on negotiations with two major labor unions—service workers union 32BJ SEIU and the Hotel Trades Council—which wield a significant amount of political influence in the five boroughs. Southeast Queens Councilman Donovan Richards, who was just elected Queens borough president and sits on the zoning subcommittee, recently told The City that he planned to vote down the project if a labor agreement was not reached
We shall see, Mr. President.
Even though a few other "affordable" luxury towers have already been planted and another in it's nascent skeletal phase, presumably the developers and the city are all champing at the bit to get this done because they are building these towers to provide equity to low income earning people in desperate need for housing even if that amount is menial. It's also to "revive" the neighborhood even though it's one of the highest populated neighborhoods in Queens and arguably the busiest. Naturally this hyper-development that's being steamrolled has been met with stiff resistance and frequent protests.
But it's a lot busier on the low end these days in Flushing thanks to COVID19. With 20% of NYC citizens unemployed since the contagion claimed over 30,000 lives and suspended and destroyed small businesses since the first lockdown began in March, lines for a food pantry run by La Journada go on for blocks and blocks. And blocks. And blocks. These people might not have gas outages at their homes, but it's clear they have to prioritize rent over food because of their existential economic stasis to keep themselves sheltered.
As for the non-sheltered, the homeless population in Flushing as well as most of Eastern Queens continues to amass. Although the city Department Of Homeless Services policy's past reliance on hotels to shelter people has become a necessity because of the pandemic, many homeless people still prefer to sleep rough on the sidewalks or parks and in inclement weather than to stay in hotel shelters that aren't safe from violence or infection. Which led to this horrific sight nearby a public housing building, when a citizen found a homeless man frozen dead in a fetal position inside a makeshift shelter made of cardboard boxes furnished with a pillow and blanket underneath him.
Housing and food insecurity and the existential fear of being penniless and dying on the street surely shouldn't be happening in the wealthiest country in the world and with the Dow Jones at 30,000.
It surely shouldn't be happening at all in the greatest city in the world with a Democrat majority with alleged progressive values that were elected and appointed to government offices. As this pandemic has exposed even more regarding housing in New York City, these officials inaction has enabled these neoliberal based civic policies prioritizing the needs of a fantasized populace than the one that already exists and all their superficial actions establishes them as the posers they are, and the ramifications from them are leaving devastation, depression and death in it's wake. The difference now is that they no longer are capable of obscuring it.
Update:
Here's President Richards cabinet:
The borough president-elect has chosen three co-chairs to lead his transition team — Jackson Heights Assembly Member Catalina Cruz; former Manhattan Borough President Ruth Messinger and Queens Public Library President & CEO Dennis Walcott, who previously served as NYC Schools Chancellor and Deputy Mayor.
Rhonda Binda, Chair of the organization South Asian American Voice, will serve as the executive direction overseeing the transition.
In addition to Cruz, Richards has appointed two Queens council members and another state assembly member to his transition team which includes 14 committees.
Richard's former opponent in the borough president race, Astoria Council Member Costa Constantinides, will serve as chair of the Planning Committee that oversees land use and development.
Southeast Queens Council Member I. Daneek Miller will serve as co-chair of the Transportation Committee alongside Juan Restrepo, the Queens organizer for Transportation Alternatives. Before taking office, Miller was president of a transit union.
Both Constantinides and Miller are term-limited and must vacate their City Council seats by the end of next year.