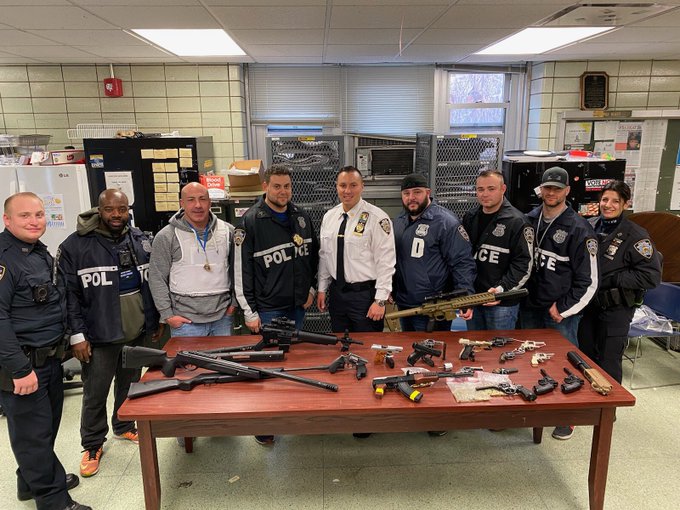 NYPD officers acting on a tip last December raided the home of Elizaveta Zlatkis and found a cache of guns scattered around her Forest Hills apartment. The next day, cops from the 112th Precinct arranged the 22 seized weapons on a table and posed for a Twitter photo commemorating the bust.
Queens prosecutors charged Zlatkis, 31, with first-degree criminal possession of a weapon — a charge that carries a possible 25-year prison sentence — and a few local news outlets covered the case.
There was just one problem with the narrative and the charges: 21 of the 22 supposed firearms were airsoft rifles, toy replicas or starter pistols — the kind used at track meets — incapable of firing ammunition, according to the NYPD's own laboratory reports.
The one actual firearm was rendered "inoperable" because the trigger, hand grip and internal components were all missing, according to the NYPD's firearms analysis.
But a year after her Dec. 27, 2019 arrest, Zlatkis is still facing the first-degree weapons charge, which is based on possession of ten or more firearms. Queens District Attorney Melinda Katz has declined to drop the case against Zlatkis, who has refused to take a plea deal.
The case has made her life hell, she said. A quick Google search of her uncommon name reveals why. The first six results are news articles about her arrest.
Friends from high school have posted those articles on Facebook and she decided to turn down an initial job offer after she learned about the company's intensive background checks, Zlatkis said.
"I look completely crazy," Zltakis told the Eagle. "It's humiliating."
She and her husband Elvis Selimi loan the guns to rappers and producers to use in music videos, she said. Zltakis even appears in the background of at least one of the videos for a song by the artist Tay Spades.
"We do videos with them as props," said Rosedale rapper Crucial, who has become friends with Zlatkis and Selimi. "I didn't know you could actually get in trouble with all that. That's wild. They're fake."