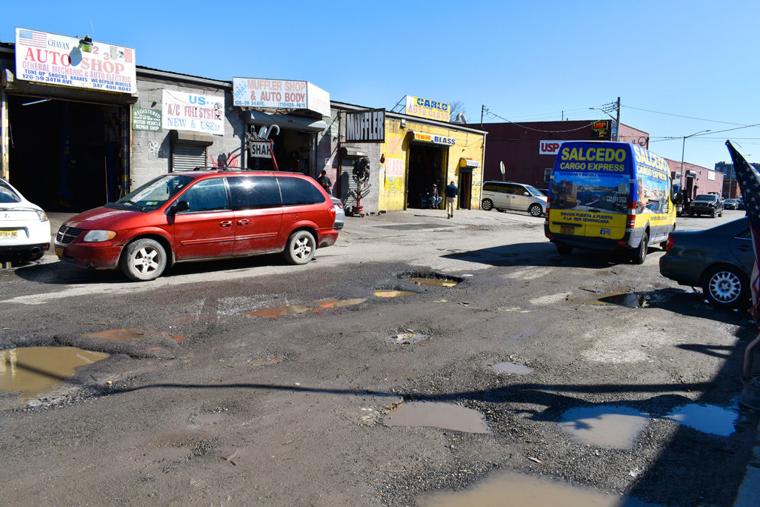 Queens Chronicle
Fifty businesses in Willets Point signed a petition sent out last week to Department of Transportation Borough Commissioner Nicole Garcia, requesting to meet with her about the industrial area's dilapidated, cratered streets.

Decades have passed since most of the streets in the Iron Triangle were repaved. They have been compared to those of Kabul, Afghanistan.
The DOT did do some repaving work in the area several weeks ago. It fixed up the western border of Willets Point, 126th Street between Northern Boulevard and Roosevelt Avenue, right by Citi Field. It also had workers resurface two blocks at the northern boundary of the area, 126th Place and 127th Street between Northern and 34th Avenue.
But Willets Point business owners didn't respond with much, if any, praise. The vast majority of the area's shops are located more centrally within it. The west side of the 126th Place block that the city repaved doesn't have any businesses on it.
Critics charged the DOT just wanted to make 126th Street look nice for an anticipated ceremony celebrating the block by Citi Field being co-named for Mets legend Tom Seaver. They said the agency did the one-block repavings on 126th Place and 127th Street to placate business owners who might be upset.
The DOT says it does not have the in-house resources available to repave Willets Point at large.
The agency also hasn't responded to the petitioners, according to Irene Prestigiacamo, an Iron Triangle property owner who wrote the letter to Garcia on behalf of Willets Point United.
"Being very frank with you, I don't expect to [hear back] right away," she told the Chronicle.
I highlighted this because the DOT did something similar in South Richmond Hill last October when they
resurfaced three blocks
days before a movie was being shot on Lefferts Blvd.