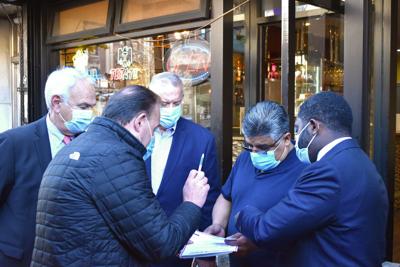 The rate of positive COVID test results has increased in Queens over the past week as officials have begun to warn that it could mark the beginning of a second wave.
After Gov. Cuomo designated Ozone Park as part of a yellow zone at the end of October, South Queens has continued to have warning signs of higher infection.
When the city Department of Health updated its website to show real-time data on COVID positivity rates by ZIP code, it showed that Richmond Hill had the second-highest seven-day COVID test positivity rates in all of New York City as of Monday, at 4.43 percent.
The increase is not isolated to Richmond Hill. Farther south, Arverne and Broad Channel had the fifth-highest seven-day positivity rate in the city. That data came to light shortly after Cuomo removed Far Rockaway's yellow zone designation at the end of last week, based on state data.
The seven-day rolling average for the entire Queens yellow zone has increased from 2.68 percent positive Monday Nov. 2 to 3.12 percent Nov. 9, with daily rates of positivity shooting up in the last couple days of this week, according to the state data.
The relationship between small business and government during the pandemic has been an uneasy one.
"It was bad before. Now it's worse," said Councilman Mark Gjonaj (D-Bronx), during last Thursday's tour of businesses on Fresh Pond Road in Glendale. "The city is not listening. They're hearing the issues. They have not addressed the concern."
Gjonaj, chairman of the Council's Committee on Small Business, visited stores with Councilman Bob Holden (D-Middle Village), Myrtle Avenue Business Improvement District President Ted Renz, Queens Chamber of Commerce President Tom Grech and Small Businesses Commissioner Jonnel Doris.
"For us, we're here to help small business. That's our job," Doris said. "While we're the government, we're still their advocates."
He said about 30 walking tours have been done around the city and though some changes in policy have been implemented because of feedback, Doris acknowledged "we have to rebuild their trust, too."
Among the problems raised by elected officials and business owners around the city are the fines being imposed, sometimes with contradicting advice from city agencies.
"I don't like when the government descends on businesses that were closed for so long and then they start fining them instead of warning them," Holden said.
Grech believes one person needs to oversee everything, "kind of like a COVID czar."
Gjonaj said store owners can be fined if a customer is not wearing a mask but believes that is unfair to the owner, saying that there have been attacks on people who are demanding masks be worn.
"They're not policemen. They're business people," he said. "They're working behind the counter. They're sweating. They're not supposed to act as enforcement. You can't hold them reliable. You go tell someone with mental illness that they can't enter because they don't have a face mask. Let's see how far that gets you."