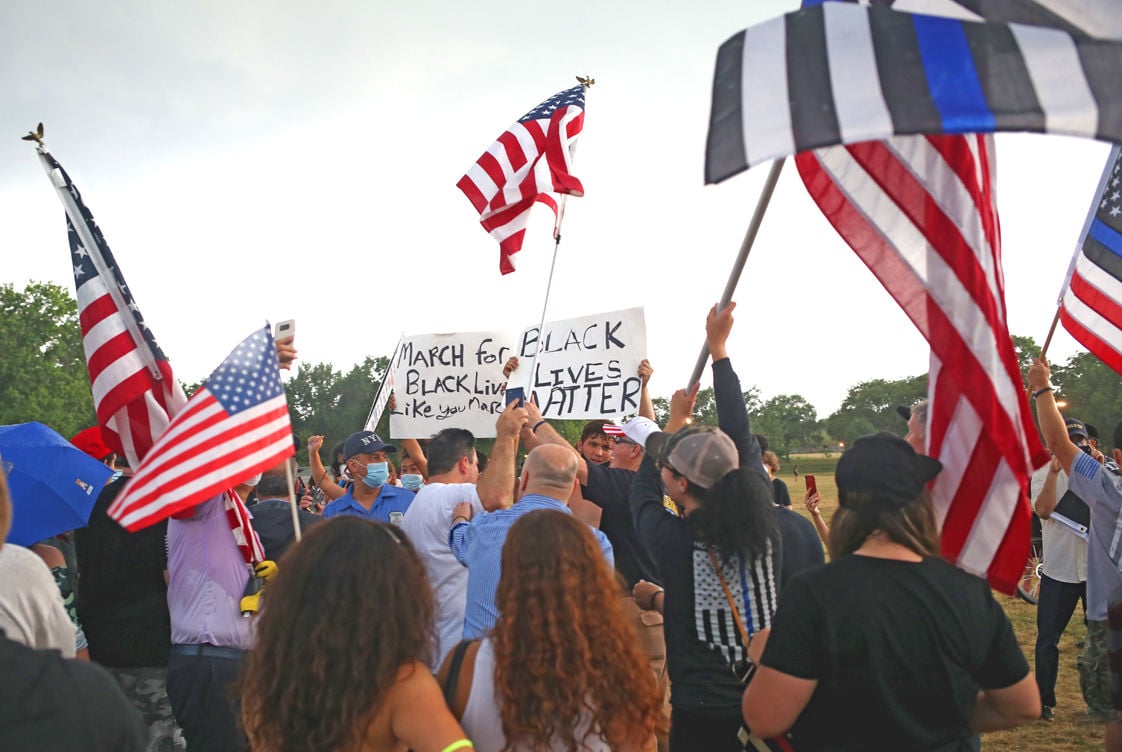 Queens Chronicle
A march to support New York's besieged Police Department ended with an angry confrontation last Sunday night between pro-cop demonstrators and a group of Black Lives Matter activists.
The march, which ended at Juniper Valley Park in Middle Village, looked like a repeat of a similar, peaceful walk earlier in the week — a display of solidarity with cops who have been the target of mass demonstrations in New York and around the country following the death of George Floyd at the hands of a police officer May 25 in Minneapolis.
But as the approximately 60 marchers entered the park after a mile-and-a-half walk through the neighborhood and along Metropolitan Avenue, they were met by about 20 counterprotesters. The counterprotesters carried signs calling for the defunding of the Police Department and accusing the NYPD of protecting "bad cops" on the force.
Heated words were exchanged and the two groups flipped middle fingers at each other, but there was no physical altercation.
"I saw the BLM people walking towards us" at the end of the march, said Phil Wong, one of the organizers of the pro-cop walks. "They were clearly there to start an exchange."
Police who had been accompanying the march in order to control traffic and keep the walk orderly quickly rushed from the edges of the park when they saw the confrontation shaping up. The cops stationed themselves between the groups, working to calm the potentially serious situation. The two groups exchanged chants. "Black lives matter" drew a response of "All lives matter" from the pro-cop marchers.
No arrests were made.
The weather put a damper on the confrontation. A sudden, heavy downpour sent both groups scurrying out of the park after about 15 minutes. A handful of die-hards remained in the park to hash out their differences in the soaking rain.