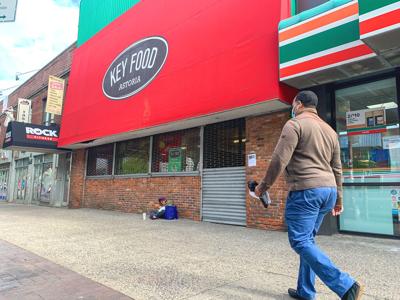 Key Food on 31st Street in Astoria has shut down despite months of rallying from the community and elected officials.
Maryam Shariat Mudrick, co-founder of the Astoria Mutual Aid Network, had tried to save the business and said the news was not well received on Astoria Facebook pages.
"Regardless of the political association of the group, everyone is frustrated and disappointed that yet another grocery store and place to access food has been shuttered," she told the Chronicle.
She said many residents in the neighborhood are elderly and that there are "very few grocery stores" in the area.
"There's just a void and people are worried as they're getting into the colder months that they're going to have to travel to get their basics for living," Mudrick said.
Astoria Food Pantry co-founder Macaela Sears said she expects longer lines at the pantry. "That's my first and main concern," she said, adding that the closure means 150 lost jobs during a pandemic and an unemployment crisis.
"People are not only losing their jobs but they're going to lose their healthcare for a union job and have to decide, 'Am I going to pay for my healthcare or am I going to pay for my groceries?'" Sears said.
They said the next closest similar market is at least 10 blocks away. There is a CTown Fresh Astoria on 31st Street and 24th Avenue but it's more expensive.
"The Key Food split the difference on affordability and quality," Mudrick said. "There are cheap options in the neighborhood and there are boutique options in the neighborhood but Key Food had everything. It was accessible. You could buy everything you needed in one location. It was right by the subway. There's nothing like that for sure."
Target will come into the location, against the wishes of some in the area.