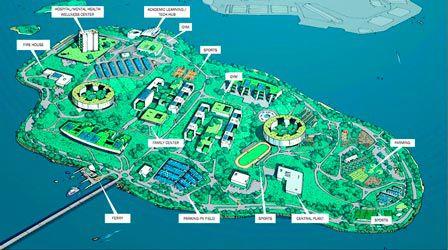 Queens Chronicle
Can ferry boats be the way to stop a bruising battle over New York City's jail problem?

A group of designers and engineers who live and work in Downtown Manhattan unveiled a plan last week that outlines in detail how to rebuild Rikers Island and use secure buses aboard ferries to transport prisoners to and from court.
It is one of the first specific, workable alternatives put forward by opponents to Mayor de Blasio's sweeping plan to replace Rikers with four borough-based jails, including one in Kew Gardens behind the Queens Criminal Court building.
The City Council has scheduled a crucial vote on the mayor's jail plan for next Thursday.
At bottom, the 49-page ferry proposal was drawn to upend the mayor's $11-billion plan — $9 billion for the jails, plus $2 billion to repurpose Rikers as a multiuse city facility — that would take a decade to complete.
Local groups are bitterly opposed to the proposal that calls for the new jails in largely residential neighborhoods, as are criminal-justice reformers who want to see Rikers closed but oppose constructing new lockups.
The reimagining of Rikers calls for the city to demolish "every building" on the island and build a series of smaller, low-rise jails — each with a different level of security.
Renderings for a reconfigured Rikers include open spaces, sports facilities, a family center and a small farm.
Connecting a rebuilt island jail system with the boroughs by ferry "liberates Rikers" from the necessity of moving hundreds of prisoners being held on charges before conviction each day on long bus rides through city streets to the courts, said architect Bill Bialosky, a spokesman for the group.
A group of about a dozen volunteer architects and engineers has been working on the plan for about a month, meeting regularly at the Lin Sing Association, the century-old Chinese-American organization on Mott Street, with community leaders.
Ferries, said Bialosky, are "the answer to the problem."
Ferries would also be a good commuting alternative for the families and friends of prisoners.
Why didn't de Blasio and his bullshit city Economic Development Conspirators provide a ferry pier at Rikers in the first place? Well now you know.