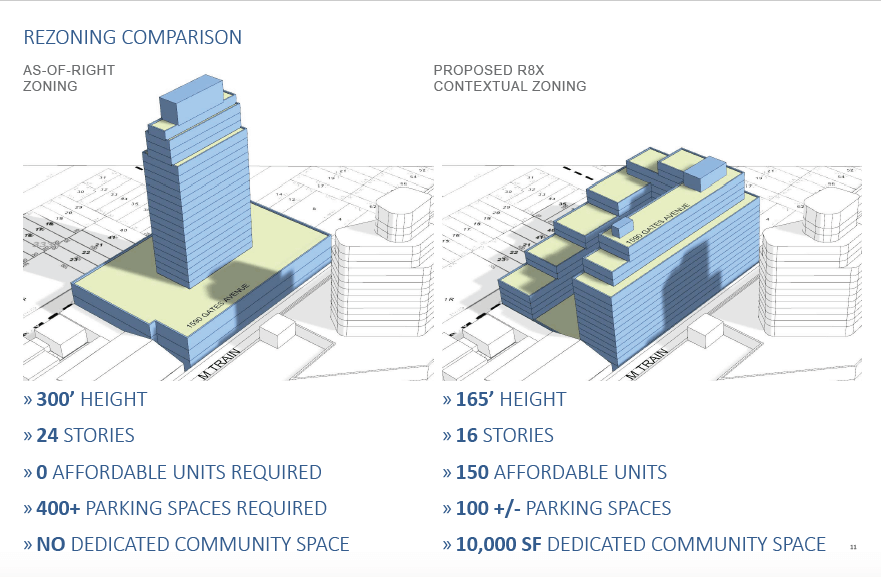 Queens Eagle
A proposal for a high-rise luxury apartment complex in Ridgewood has put longtime residents and the local councilmember in a bind, with the project's developer suggesting it will build a 300-foot-tall tower without any affordable units unless the city consents to a rezoning.
Under the area's current zoning, developer Avery Hall Investments could construct a 24-story, 200-apartment tower on the site of a Food Bazaar at 1590 Gates Ave. A contextual rezoning would enable Avery Hall to construct a shorter, but much bulkier complex that features 375 market-rate apartments and 150 affordable units, according to plans published by Avery Hall. That's the plan the developer seems to favor.
"Some people might see it as a threat, but I don't take it that way," Councilmember Antonio Reynoso told the Eagle of Avery Hall's two plans. "I want to believe people are innately good."
Reynoso says there's a third option for the development. He thinks the city can still entice Avery Hall to build a 100 percent affordable complex in the rapidly gentrifying neighborhood, where home and rental prices have surged in the past five years.
"Avery Hall is not objecting to 100 percent affordable housing if they felt the subsidies are there," he said.
The developer has said it supports the rezoning plan, which would enable the company to build 175 additional units of market-rate housing. Avery Hall did not respond to requests for comment from the Eagle as of press time.
"I want to believe people are innately good." Don't stop believin' that about the developer overlords of this city, Reynoso. Idiot.