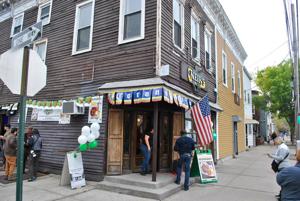 Queens Chronicle
The building that has been home to historic Neir's Tavern for 190 years has been sold.
Negotiations for a new lease are underway with a management company that represents the new owners, according to a spokesman for the landmark bar.
"No one knows what's going to happen," said Ed Wendell, head of the Woodhaven Cultural and Historical Society.
The historic building at 78th Street and 88th Avenue in Woodhaven was sold in mid-December to a limited liability corporation based in College Point, according to city records The sale price was listed at $1.35 million.
The sale came as a surprise to the bar's owner, Rendell said.
News of the sale was first disclosed last weekend when Neir's owner, Loycent Gordon, a New York City firefigher who bought the bar 10 years ago and began restoring it, appeared at the Woodhaven Residents' Block Association's monthly meeting.
The new managers of the building — which also includes a recording studio, a karate studio and two private apartments — "had no idea until I told them" that it housed a piece of New York history, Gordon told the meeeting.
Originally, the managers intended to put "a grocery store or a liquor store" in the spot where Neir's is, they told Gordon, who said he was "speechless" when he learned last month he had a new landlord.
The identity of the new owners is — as is often the case with commercial real estate transactions — difficult to track down.
A corporation named 353 Rockaway Realty LLC is listed as the new owner. Records show its address as a single-family, private home in College Point. The owner of the home, Xuiming Shi, does not have a listed phone, nor can any other phones associated with the address be found.