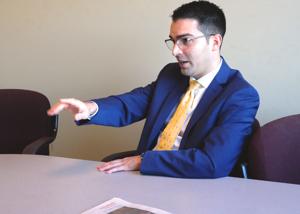 Queens Chronicle
The field of candidates running for public advocate next month is starting to resemble the start of the New York City marathon. So Eric Ulrich, the three-term Council member from Ozone Park, has found a simple message to stand out.

"If people love Mayor de Blasio, if they think he's doing a great job and think the city is headed in the right direction, then they have 20 other candidates to pick from," he said in an interview this week with the Queens Chronicle.
"If someone is looking for someone to be a public advocate [who] is not afraid to be independent of the mayor, then I'm their candidate. That's why I'm running.
Ulrich, who turns 34 two weeks before the special election February 26, is a popular figure in his South Queens Council district after his surprise victory in a 2009 special election and then winning re-election three times in an area that is overwhelmingly Democratic.
He is barred by term limits from running for City Council again when his current term expires in 2021.
I personally think this position is redundant, after all the majority of these candidates are already in city council, so they are already advocates for the public.