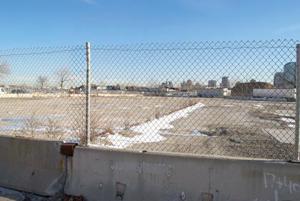 Queens Chronicle
Ever since Mayor de Blasio last February announced that six acres of Willets Point would be getting developed with 1,100 affordable housing units and a 450-seat elementary school, observers wondered what would become of the other 17 acres of Iron Triangle land owned or controlled by the city.

Four months ago, a task force came up with recommended scenarios about what should be built on the 17 acres that, according to the city Economic Development Corp., "will serve as a basis for further discussion with the community and guide principles for development of" the land.


And last week, the EDC released an illustrative proposal for each of the two scenarios.
One of them features an up-to-25,000-seat soccer stadium directly adjacent to Citi Field, which it would share parking spaces with.
Borough President Melinda Katz and City Councilman Francisco Moya (D-Corona), the task force's two co-chairpersons, have spoken in favor of building a soccer stadium at Willets Point.
A possible mixed-use district in the 17 acres is outlined in the other design. It would mainly be made up of housing units with a range of affordability and some on-site parking, though it also features space for a health center, retail and a high school.
Any concrete plan for the land in question would be formed after negotiations between the EDC and the project's contractor, the Queens Development Group, which is a joint venture of the Related Companies and the Mets-controlled Sterling Equities.