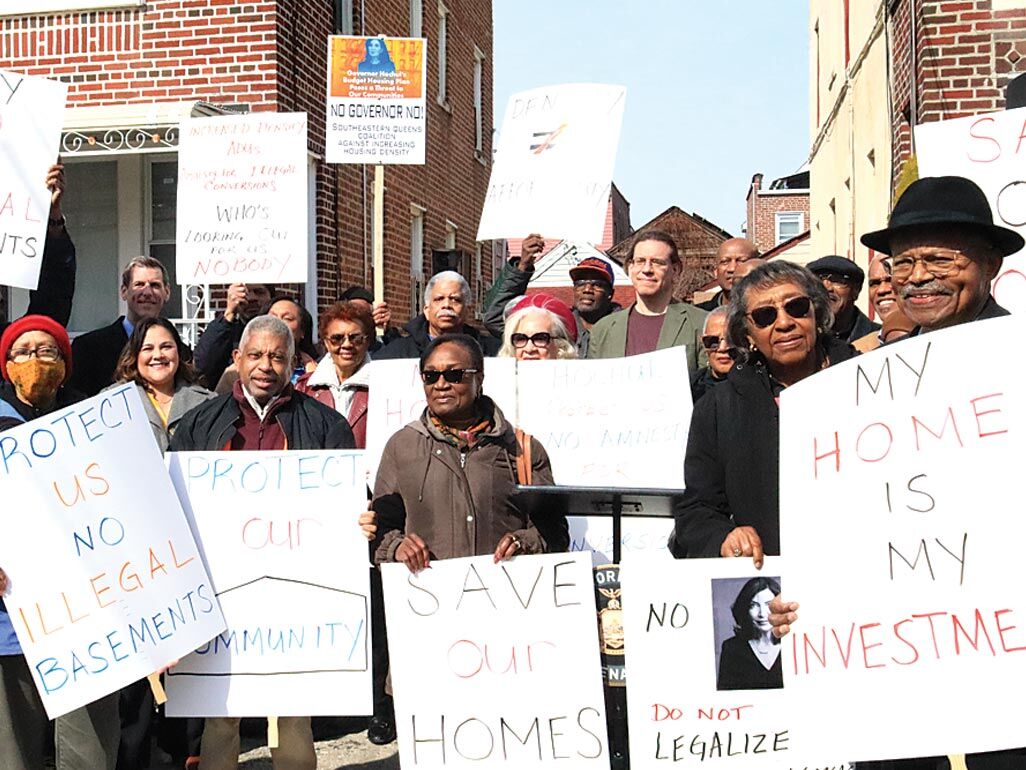 Lawmakers, Eastern Queens civic leaders and homeowners were in Laurelton last week to rally against Gov. Hochul's proposal to upzone and legalize accessory dwelling units to create more affordable housing in residential neighborhoods.
Many people were concerned about the character of their communities, which consist mostly of one- to -two family homes, changing to become a higher-density area like Long Island City.
The rally was held March 17 in front of the home of Bess de Betham of the Federated Blocks of Laurelton.
"Nearly 52 years ago I moved from Far Rockaway because I liked this neighborhood," de Betham said at the event. "Why did I move to this neighborhood? Because it had one -and- two family homes and front and backyards. It has treelined streets and spaces between homes on each block. I have not felt crowded or overwhelmed by others living on that block."
De Betham said that she is not against more affordable housing throughout the city and state, but her family has worked hard and she must protect the biggest investment of her life and of her neighbors'.
"We are here today to let the governor and our state elected officials know that we are not accepting the imposition of mandates of top-down change to the quality of life that we have worked so hard to preserve," de Betham added. "I hope our elected officials are listening. The people are paying atteniton to not only how you feel on this Housing Compact, but how you will vote on this Housing Compact ... Welcome to my home."
Hochul's Housing Compact proposal for the fiscal year 2024 budget is to create 800,000 new homes over the next decade whether it is through new housing production or legalizing accessory dwellings like basement apartments, according to governor.ny.gov. If passed, her proposal would expedite rezonings and give developers tax breaks to make at least 100,000 of the homes affordable.
Hochul said in a statement that the New York dream should be attainable for all who call the state their home and that the objective of the Housing Compact "is for families to stay in New York."
Bill Perkins of the Rosedale Civic Association said that when homeowners learned about Hochul's measure had to do their own research to fully understand the extent of the changes she was proposing.
"Many of our communities were downzoned," Perkins said. "We saw what happened when density wasn't controlled. It was unbridled and we weren't prepared for it."
Perkins said that if Hochul's proposal were to go through that it would eliminate home rule, with communities being mandated to follow Albany's growth targets.
"Whenever you have mandates that you are penalized by, that is not the right way to grow our communities," the Rosedale civic member said. "We grow organically. We think about our growth. We are strategic about it."
Along with the growth mandates, Perkins does not support amnesty for ADUs.
"About a year ago, nine people died in illegal basements because they could not get out of the basements," he said, referring to the death toll in Queens from the remnants of Tropical Storm Ida. "You should feel it's an indictment on you if you are a one- or two-family homeowner because that means it's taking away ... the ability to be in the community you want to be in."
Perkins said that Hochul's bill is doing the opposite of keeping New Yorkers within the state because people like him and de Betham would be less likely to stay.
"We have to be together on this," he added. "The vote on this is on April 1."