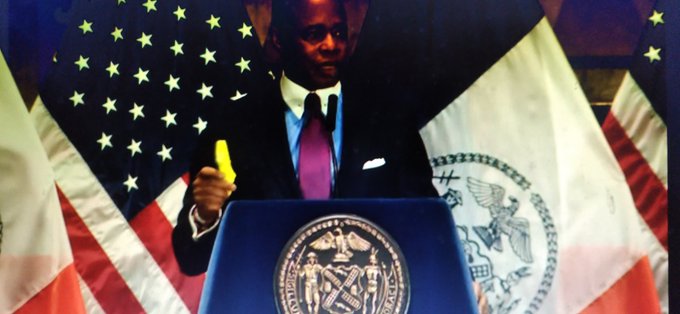 Mayor Eric Adams wants to build a half million homes over the next decade, but that will be impossible without new tax incentives meant to spur housing development—and maybe even changes to current building codes to allow for single-room occupancy units, he said Monday.
With budget negotiations underway in Albany, Adams said state lawmakers risk compounding the housing crisis if they fail to take up a tax break similar to the expired, and controversial, 421a program, which waives most property taxes in exchange for some income-restricted housing .
"There is a complete drying up of the pipeline," he said. "We can't be so idealistic that we're not realistic."
Adams spoke with WNYC-Gothamist editor Josefa Velásquez about his "moonshot" housing plan during an event at the Greene Space — New York Public Radio's live events venue — describing his approach to an issue that affects everyone in the city and that New Yorkers have shown they care deeply about.
In a citywide survey of 62,000 New Yorkers, a quarter of respondents listed building and preserving affordable housing as their top concern. Respondents also named affordable housing as the most effective intervention for improving public safety.
Adams said a new 421a is essential to meet that need. But progressive elected officials counter that the program has diverted revenue from the city and does not create homes that are actually priced for poor New Yorkers. And many housing activists say the mayor and governor's housing plans rely on the notion of "trickle down" affordability without deep targets for the low-income New Yorkers most in need of places to live.
Adams dismissed the criticism of 421a and called it "crucial" for the future of the city.
He said locations in South Jamaica and the Rockaways are ripe for new housing development, and called for a more centralized strategy for targeting tax breaks.
"Being smart about where you want to do the incentives would allow us to get housing in the pipeline," he said.
He also said some city laws need to be amended to allow for different types of housing, like single-room occupancy and dormitory-style units, especially when it comes to turning offices into apartments. New SRO construction has been illegal since the 1950s, and building codes mandate strict light and air requirements.
"Why can't we do a real examination of the rules that state every bedroom must have a window?" Adams said. "You know when you sleep it should be dark. Instead of doing that, have studio apartments with shared living and working spaces."
Millions of residents across the five boroughs are feeling the impact of the current housing crisis, with median rents and the city's shelter population both reaching record highs.