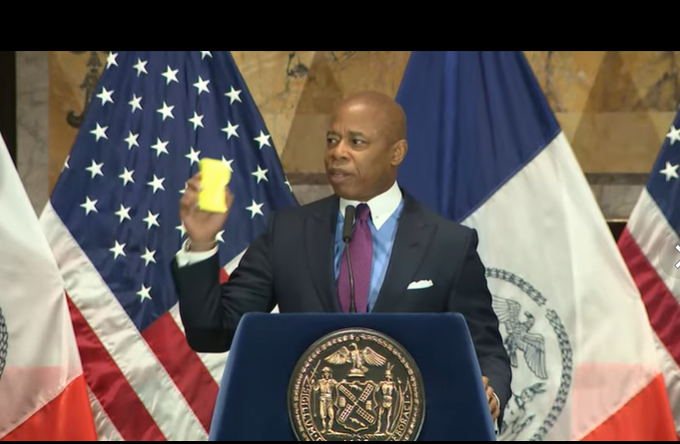 Mayor Adams on Tuesday dismissed the notion that there should be a separation between church and state in American society, drawing ire from fellow Democrats and civil rights advocates who contended his line of argument runs counter to deep-rooted U.S. values.
Adams, who's Christian, has over the course of his political career spoken extensively about how important faith is in civic life and said as recently as last February that "God" told him to become mayor.
But his comments Tuesday morning, delivered at an interfaith breakfast at the New York Public Library's central branch in Manhattan, took it a step further.
The tone was set by Ingrid Lewis-Martin, Adams' chief adviser in City Hall, who introduced him at the event by declaring that the mayor's administration "does not believe" it must "separate church from state."
"Ingrid was so right," Adams said once he took the stage. "Don't tell me about no separation of church and state. State is the body, church is the heart. You take the heart out of the body, the body dies. I can't separate my beliefs because I'm an elected official."
He added: "When I walk, I walk with God, when I talk, I talk with God. When I put policies in place, I put them in with a God-like approach to them — that's who I am."
Adams' comments appeared at odds with the establishment clause of the U.S. Constitution's First Amendment.
The clause holds that the U.S. shall make no laws "respecting an establishment of religion," a principle derived from the teachings of former President Thomas Jefferson, who wrote that there must be "a wall of separation between church and state" in society.
Later Tuesday, Adams spokesman Fabien Levy said the mayor isn't pushing for upending any U.S. laws or principles. Levy also noted that Adams delivered the remarks in front of "hundreds of representatives from a multitude of religions."
"While everyone in the room immediately understood what the mayor meant, it's unfortunate that some have immediately attempted to hijack the narrative in an effort to misrepresent the mayor's comments," Levy said.