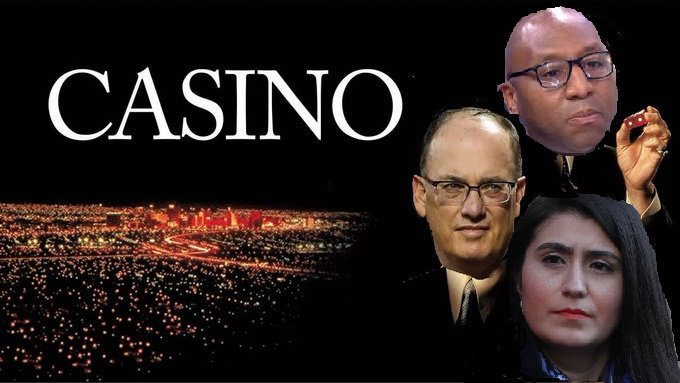 A state lawmaker introduced a bill Wednesday that would authorize New York City to build on the parking lot at Citi Field, which would help pave the way for redevelopment plans envisioned by Mets owner Steve Cohen that include a new casino.
The legislation introduced by Assemblyman Jeffrion Aubry (D-Queens) calls for the parking lot to be developed for "a gaming facility and, in conjunction with such facility, commercial, retail, entertainment, recreational, hotel, convention, and or community facility uses," according to the bill text.
Because the Citi Field lot is technically parkland, designated in 1939 as part of Flushing Meadows-Corona Park, it requires state intervention to "alienate" it to facilitate construction.
Aubry's bill specifies that the land be discontinued as parkland "through the entering of leases or other agreements with New Green Willets, LLC, its affiliates, or any other entity or entities," referencing the lobbying firm owned by Cohen. As part of what's known as "park alienation," the city would have to find at least 20 acres of replacement parkland or significantly improve other existing greenspace — paid for by the private developer, according to the legislation.
Cohen has pushed for redevelopment of the Citi Field parking lot, which is owned by the city and leased to the Mets, since shortly after buying the team for $2.4 billion in November 2020.
In the past few months he has hosted "visioning sessions" with locals and community leaders to get feedback on what Queens residents — and Mets fans across the city — would like to see in the area.
Aubry, who did not immediately respond to a call and text message seeking comment, previously told THE CITY that he had spoken many times with Cohen's lobbying firm, New Green Willets, about their ideas for the parking lot. He said he was most concerned with creating jobs and recreational activities for his district, which includes Corona and East Elmhurst.
"They have talked to me about it a number of times," he told THE CITY in January. "The casino in my mind is important to them — not so important to me."
State Sen. Jessica Ramos, a Democrat who also represents the neighborhood, said she was blindsided by the legislation — a version of which she had planned on introducing.
"I was taken aback this morning, it was quite a surprise to see legislation submitted," she told THE CITY, adding that any park alienation would require her sign-on in a jointly-introduced bill.
Ramos said she had not had the chance to read Aubry's legislation yet.
"Not only do I have some reading to do but I also have some conversations to be had," she added.