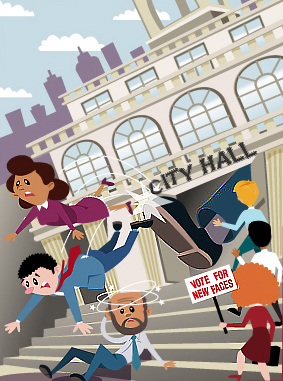 ...if there really is a case to be made that extending term limits would improve city government and that having the current Council members and citywide officials continue in office past next year, they should make it on specific grounds. What precisely would the Council and the citywide officials be able to accomplish if granted the ability to run for an additional term or two? And which laws or actions that they have taken over the last seven years will they admit were not up to par because they lacked the expertise to handle them properly?
Editorial: Term Limits Must Stay, Self-Serving Politicians Must Go
Instead, there should be a movement within the Council to finalize the debate on term limits once and for all. And while they are doing so, Council members and Mayor Michael Bloomberg should consider adding in some additional provisions to make city elections more competitive, like reducing the length of Council terms to two years while keeping the limit at eight years in office, and eliminating matching funds for incumbents seeking re-election. That is the kind of re-examination of the system that the city actually needs—not the current kind of monkey business.

Next year, term limits will boot out some elected officials who are mediocre at best, but will also remove some very talented and excellent people from office. That is the price we pay for having term limits. But the benefit is a better democracy—the worst form of government, as Winston Churchill said, except for all the others.

The question city officials now have to answer is whether they believe in democracy, or whether they are just politicians thirsty for another drink.