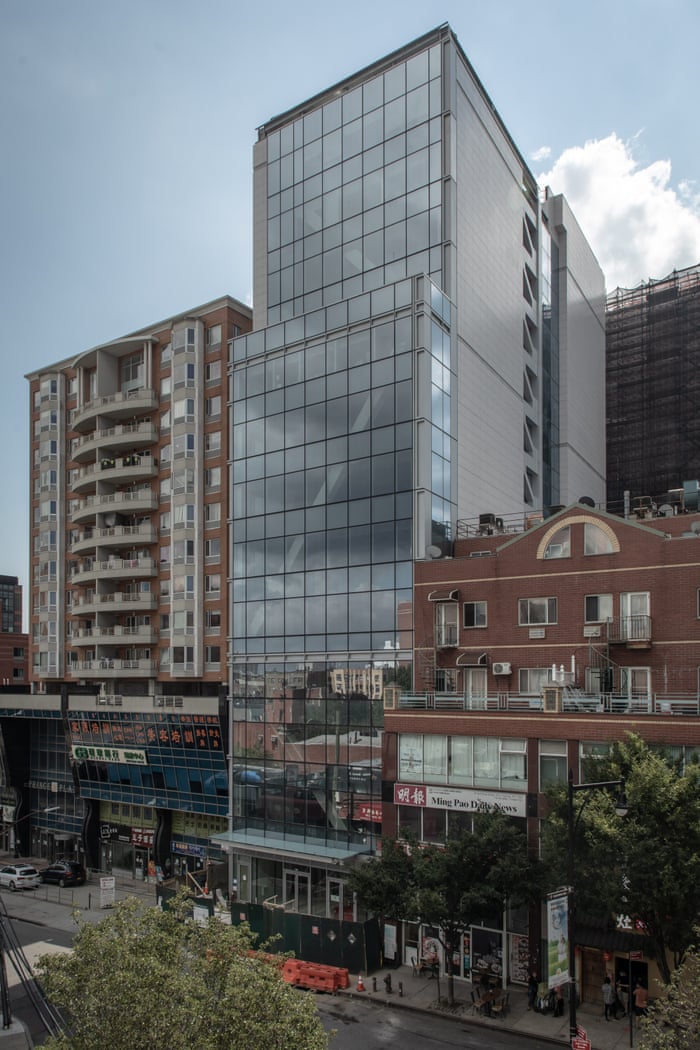 The Guardian
The optics of a white man trying to grab a young woman of color, while police officers stood by, was ripe for outraged clicks. After a tense debate at a public hearing on 10 February, the Queens community board chair, Eugene Kelty, lunged at a Chinese American woman who was part of a large group opposing a special waterfront district in Flushing, New York.
Later that night, the board – whose leadership is almost all white and had conducted the entire hearing in English – voted in favor of the waterfront district, which would pave the way for more luxury developments there.
What wasn't captured in the videos that circulated after the meeting that night was who was seated near the front of the room: the developers – F&T Group, Young Nian Group and United Construction and Development Group – who own most of the property in the waterfront and have formed a development consortium, FWRA LLC, to push aggressively for its development.
Young Nian Group is a subsidiary of Zhonggeng Group, an international conglomerate headquartered in Shanghai. The founder of United Group is Chris Jiashu Xu, who immigrated from China as a teenager and now serves as president. Two Taiwanese American immigrants, Sunny Chiu and Michael Lee, founded F & T Group, which is headquartered in Downtown Flushing.
The three developers have stressed in public hearings that they are not outsiders to Flushing, which is 69% Asian. "They've been here, they live here, they work here, they've invested here," said Ross Moskowitz, an attorney for the developers at a different public hearing in February.
The influx of transnational capital and rise of luxury developments in Flushing has displaced longtime immigrant residents and small business owners, as well as disrupted its cultural and culinary landscape. These changes follow the familiar script of gentrification, but with a change of actors: it is Chinese American developers and wealthy Chinese immigrants who are gentrifying this working-class neighborhood, which is majority Chinese.
This part here was eye-catching:
Perhaps the most significant change to Flushing is the disruption of its food scene. From 2000 to 2015, the number of food and drink retail stores has increased from almost 400 to more than 800. But many of the additions are high-end venues, such as the upscale Sichuan restaurant Guan Fu and international Asian chains like Papparich. This change is deliberate - Helen Lee, executive vice-president of F&T, is responsible for selecting retail tenants for more than 300,000 sq ft of space under development in Flushing. She told Eater in 2019 that she chooses restaurants that fit with Flushing's changing population and that will change its "cheap eats" reputation.
When reached for comment, F&T's PR representative, Relevance International, said: "Any real vibrant dining scene requires diversity in choice. While F&T has brought in international renowned brands like HaiDiLao to the market, they've also supported longtime staples in Flushing like Nanxiang Xiao Long Bao ($6 dumplings) by leasing them space at One Fulton Square."
This might explain those foodie night market festivals of the past couple of years by Flushing Meadows Park. Follow the money behind that trojan horse.