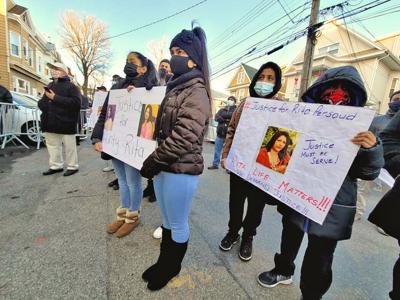 Elected officials, religious leaders and Ozone Park residents gathered outside the 102nd Precinct in Ozone Park last Saturday, over a week after a hit-and-run killed Indo-Caribbean vocalist Ritawantee "Rita" Persaud, to demand that the NYPD find the driver who fled the scene of accident.
"This person's recklessness caused the death of our dear Auntie Rita and there hasn't been an arrest since. So today we're asking to pool all our resources, all our energies to endure that this doesn't end up being a cold case," organizer Aminta Kilawan-Narine said at the rally.
Persaud, 54, was taking an Uber ride in a black Toyota Camry Dec. 24 when the 50-year-old driver of the vehicle was hit by a man driving a Lamborghini Urus SUV carrying a passenger from the Church of the Nativity of the Blessed Virgin Mary.
The Uber driver, the Lamborghini passenger and Persaud were taken to Jamaica Hospital Medical Center, where the former two were listed in stable condition and Persaud was declared dead. The Lamborghini driver fled the scene on foot.
The Hindu community in Queens has been shaken by the death of Persaud, who became well-known in New York and Guyana for singing devotional music at various mandirs in New York and her work teaching her art form to young people.
The rally reflected Persaud's religious passion. The Pandit Manoj Jadubans, the leader of Persaud's house of worship, Shaanti Bhavan Mandir in Jamaica, led the crowd in a prayer near the beginning of the event.
"We are obviously saddened and hurt and broken but we still have a strong resolve to ensure there's justice for her — that senseless death and lack of compassion by running away — that's not a society and ideals we grew up in," said Persaud's cousin, speaking on behalf of her family.