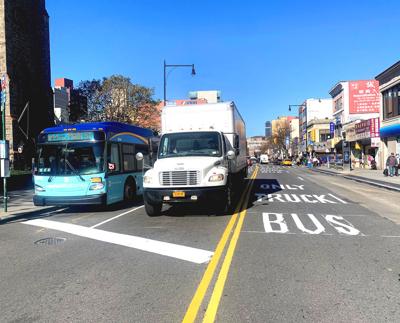 Seven months later, the Main Street busway project will finally move forward.
State Supreme Court Justice Kevin Kerrigan struck down a lawsuit by the Flushing Chinese Business Association Jan. 5 that claimed prohibition of street travel for passenger cars and lack of road parking will deter shoppers who drive into the neighborhood, resulting in a dramatic drop in Flushing business. Kerrigan was unconvinced there was evidence that the 0.3-mile stretch of priority bus travel would slow commercial activity.
"How efficacious the Busway plan will be or what precisely its impact will be upon the community, if any, is presently unknown," Kerrigan wrote before denying the Article 78 proceeding. The judge suggested that opponents address their displeasure with their elected officials instead.
The Rider's Alliance happily and immediately shared the news Tuesday afternoon, stating, "Today's decision is a huge victory for 150,000 bus riders across Queens and the Bronx. Citywide, judges have now ruled decisively that when riders win well-deserved priority on busy streets, opponents can't sue and get their way. Just as Trump and his supporters can't overturn the vote, neither can courts 'invade the province' of transportation policymakers on behalf of a few rich NIMBYs."