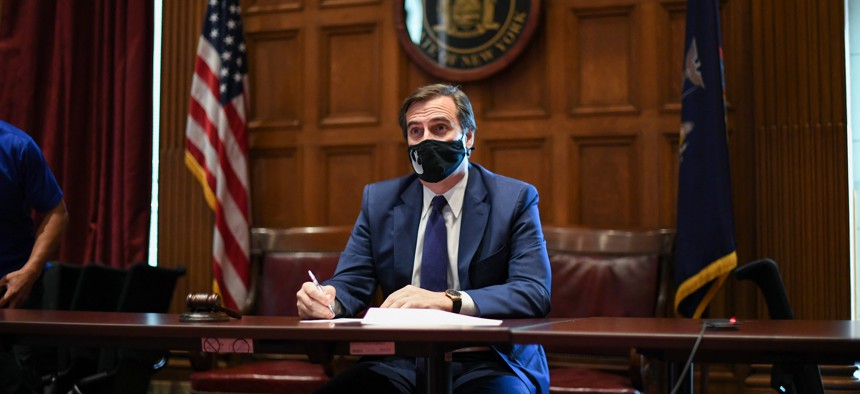 A new and long-awaited proposed New York congressional district map was released by the Senate and Assembly on Sunday. As a result of the 2020 census, the map reflects the state's loss of one congressional district, bringing the state's delegation down to 26 members.
New York State legislators are expected to pass the map later this week and send it to Governor Kathy Hochul for her approval. New maps for New York State Assembly and Senate district maps are also expected to be released and approved later this week. Following those enactments, county boards of elections will realign election districts with the new Assembly Jdistricts so petitioning for Spring 2022 primaries can get underway in early March.
The task of drawing the initial line drawing fell to the New York State Legislature after the state's advisory "Independent Redistricting Commission" failed to agree on congressional and state legislative maps in early January. The commission had been created under a 2014-enacted state constitutional amendment that aimed to remove the legislature from the initial line-drawing process.
This map represents the first opportunity for Democratic Party legislative leaders to manage drawing the state's congressional maps in 90 years. In those prior years, Republicans or a politically divided legislature drew the maps. The current congressional lines were drawn by a federal court in 2012 after the legislature failed to come to an agreement on a map.
City & State
State Senate Deputy Majority Leader Michael Gianaris, who has led his chamber's redistricting efforts, asserted that his party did not engage in gerrymandering despite proposing a new congressional map that clearly benefits Democrats. In an interview with City & State, Gianaris stood by the controversial proposal that could cut the number of Republicans in the New York delegation in half.
The maps clearly disadvantage Republicans, who will likely lose four seats in the next election cycle if the proposal stands. The GOP was quick to denounce the new lines and promised to take the matter to court. But they weren't the only ones crying foul. The left-leaning think tank Brennan Center for Justice, which focuses on voting rights, said Democrats took a heavy hand to district drawing. Michael Li, the organization's redistricting expert, called the New York maps an "aggressive gerrymander," and even asserted they would be struck down under the John Lewis Voting Rights Act that Democrats are championing in Congress.
Still, Gianaris defended the maps against claims that they were overly partisan, especially in some of the most unusually shaped districts. "We're very confident this adheres to the current requirements," Gianaris said, adding that he fully expects the issue to end up in court. "Other people make those decisions, we'll make our case why we believe it does."
Given specific examples of districts that have drawn scrutiny, Gianaris offered a legal claim for each. For District 11, currently held by GOP Rep. Nicole Malliotakis, he claimed the new lines "conform to some historical norms for that district" – which apparently just happen to turn the right-leaning swing district into a fairly safe Democratic seat. Expanding District 3, being vacated by Democratic Rep. Tom Suozzi, from Long Island into the Bronx and Westchester unites communities of interest along the Long Island Sound, according to Gianaris. He added that this particular decision came from public input from a coalition representing communities of color that presented a "unity" plan, but the move seemed to baffle many.
Democrats have been accused of using redistricting to strengthen their position in the state Legislature despite criticizing gerrymandering in the past. "As we unravel the gerrymanders of the past, it doesn't make it a gerrymander of today," state Senate Deputy Majority Leader Michael Gianaris, who chaired the legislative task force that oversaw redistricting along with Assembly Member Kenneth Zewbrowski from the Hudson Valley, said on The Brian Lehrer Show Tuesday. "These are districts that are drawn fairly," Gianaris added. Whether or not Gianaris' rationale rings true despite the proposed Democrat-friendly lines, Republicans did use methods other than line-drawing to help them maintain their state Senate majority in the past. Packing more people in Democratic districts versus GOP areas was one strategy.