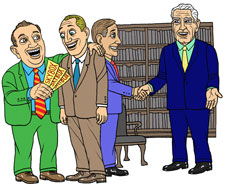 MEMBERS of the City Council have gone on a fund-raising rampage to squeeze as much as they can out of lobbyists before a new law kicks in limiting those contributions.

POLS $QUEEZING LOBBYISTS TO BEAT NEW DONATION CAP
"I just got a call from a council member who said to me, 'When are you going to give?' " complained one lobbyist, who said he felt strong-armed. "It's like the gold rush. I've never seen anything like it. They're all asking."

More infuriating is that some of the legislators are pleading with lobbyists to file a lawsuit challenging the law.

"They're saying 'We want you to sue,' " confided a lobbyist. "These are the same guys who voted for it. It's ludicrous."


Cartoon from

Slate