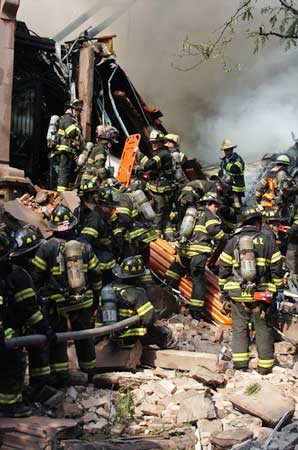 The City Council's Committee on Fire and Criminal Justice Services will vote tomorrow on a bill that would require the Department of Buildings to notify the fire department when major structural changes are made to city buildings.
Council Vote Set on Bill To Inform Fire Department of Building Changes
Ms. Brewer introduced the bill in the council last month; it originally required owners of large buildings to submit detailed floor plans to the fire department. But after a public hearing, the language of the bill changed, Ms. Brewer said, and it now requires only that the "flight" plan be provided.

The president of the Rent Stabilization Association, Frank Ricci, said forcing building owners to submit detailed floor plans is an unnecessary financial burden.
Hmmm...helping firefighters locate people during a fire and preventing deaths costs too much? Let's see why this bill was changed and who would sacrifice people's safety so that building owners and developers can save a few bucks:
RSA campaign contributions - city
RSA campaign contributions - state
Photo from NYC.gov