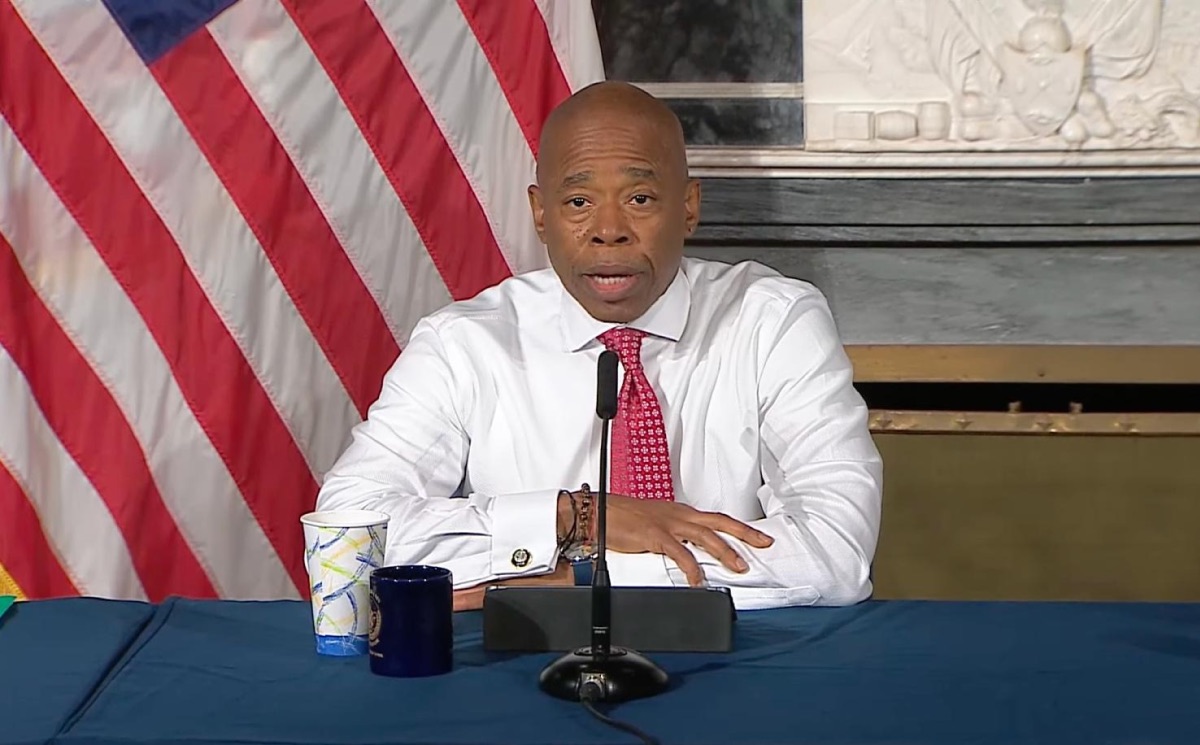 Ten hours after the National Weather Service issued a flash flood warning, five hours after the heavy rain began to fall across New York City, three hours after social media platforms began to be deluged with photos and videos of floodwaters stranding vehicles and commuters, 90 minutes after the MTA essentially told riders the trains were all too broken to be of any use, and 40 minutes after the press conference was supposed to start, Mayor Eric Adams spoke to New Yorkers for the first time about the flooding that continues to pummel the city that is under his control.
"We're ready, and you should be as well, to be prepared for this moment," Adams said.
What took him so long?
The mayor—flanked by a coffee mug and a tall paper cup, his voice sounding markedly more craggy and halting than usual (Adams had a "birthday fundraiser" in Inwood on Thursday night)—told reporters that he didn't need to be the first official to address New Yorkers about the flooding, because his deputies had already done so, in the form of sending out some Notify NYC alerts, appearing on 1010 WINS and Fox Weather on Thursday, and forwarding a press release to reporters at 11:08 p.m. on Thursday night. (Some of those deputies, including Deputy Mayor for Communications Fabien Levy, who earns an annual salary of $250,000, went even further, and snippily alerted reporters to all the alerting that had previously occurred.)
"Leadership is not only the mayor," Adams said. "It is all of those that are placed in those positions, and that is what you saw."
At the start of the presser, Adams said that he "got a firsthand look at the impact of the rainfall and what it is doing moving around the city," but later revealed that this was a little bit of serendipitous multitasking. On Friday morning, he had actually gone to a wake for a retired NYPD officer, and had driven back home through East New York, Canarsie, and Sheepshead Bay.
Just six families had been successfully evacuated from flooded basement homes so far, according to Levy, but with two to four more inches of rain on the way, where could New Yorkers who live in basements go if their homes flooded? Where was the "higher ground" that NotifyNYC told basement apartment-dwellers to seek? The mayor didn't say, though he assured everyone that was being taken care of.
"We will have sites for those who can't go with family and friends, we will always provide shelter for those in need and we will navigate that," Adams said.
Zach Iscol, head of the mayor's Emergency Management division, assured New Yorkers they were "monitoring continuously," and "in very active response mode right now," but the evidence provided for that was simply more assurances.
"We're taking this extremely, extremely seriously," Iscol said.
For an event featuring the mayor, Governor Kathy Hochul, the head of the MTA Janno Lieber, and many leaders of City agencies, not a whole lot was revealed at this press conference. Despite the chaos on the street, everyone had convened to convince New Yorkers they were doing their jobs, and that the system is working, more or less. After the mayor thanked the governor, the governor thanked the mayor. "Mayor, you've been fantastic," Hochul said.

What about migrants staying in tent structures? No major leaks or flooding have been reported, Levy said.