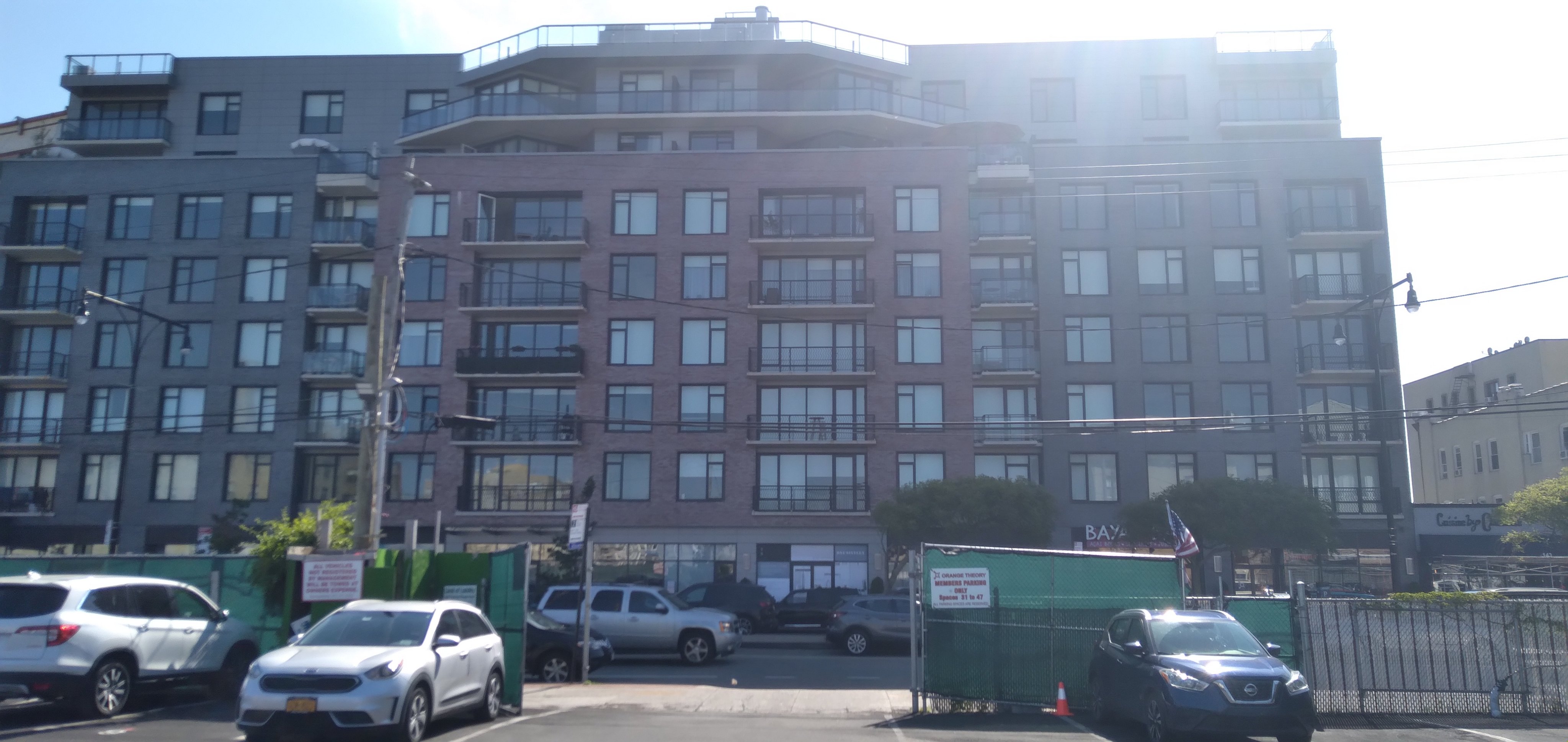 On the evening of Aug. 10, 2021, Eric Adams joined a rooftop party in Brooklyn where a crowd of real estate industry figures awaited him, each of them bearing gifts. It was a month after Adams' victory in his hard-fought race to become the Democratic mayoral nominee and he was busily harvesting donations from those eager to show support for the man overwhelmingly favored to become the next mayor of the City of New York.
That morning, a breakfast fundraiser at a Manhattan law firm active in land use issues netted the candidate $38,750 in contributions. He picked up $20,250 more at a later event with healthcare executives and doctors. Another soiree, at a hotel in the Rockaways, yielded $25,925 for his campaign coffers.
But his biggest haul of the day came on the Brooklyn rooftop. The host was a successful developer and investor in commercial and residential projects around the city named Mark Caller. The party was held atop Caller's office building on Nostrand Avenue in Brooklyn's Midwood neighborhood where his firm, The Marcal Group, is headquartered.
Once all donations from the gala had been collected, Adams' campaign was $47,050 to the better. Almost a third of that money, $15,400, came from members of Caller's family, with the rest from his friends and business associates, records obtained by THE CITY via a freedom of information request show.
Even in a campaign that ultimately took in nearly $9 million in private donations, it was the kind of political generosity that stood out.
Now, the previously undisclosed fundraiser stands out for a much different reason.
In coming days Caller is expecting to be indicted by the Manhattan district attorney on charges that he provided a luxury apartment at below-market rent to Eric Ulrich, a former City Council member and Adams appointee, in exchange for official favors.
Ulrich, a Republican ex-Council member from Queens who bucked his party in 2021 to support Adams' mayoral bid, is also expected to be charged. After Adams took office, he was appointed a senior advisor to the mayor. A few months later, Adams named him city buildings commissioner. The post put Ulrich, who held no management experience other than handling his Council staff, in charge of a sprawling agency of some 1,700 employees, one that is crucial to the city's construction industry and notoriously prone to corruption.
The job didn't last long. In November, five months after his appointment, Ulrich was forced to resign after it was revealed that the DA had seized his cell phone during an investigation into a mob-tied gambling ring.
It's unclear what favors Ulrich is alleged to have provided for Caller. The developer has been involved in significant construction projects that needed city approvals. Since 2020, Caller has built at least four new projects in the Rockaways, part of Ulrich's former Council district. Just two weeks before he hosted the Adams fundraiser, Caller won a zoning change approval from the city planning commission to add a gym to a new condominium project he built on Beach 116th Street in Rockaway Park. That's the complex where Ulrich lived in a fifth floor apartment near the ocean with two bedrooms and two baths. Units there currently range from $700,000 to $1.4 million; listed rents go from $3,000 to $4,100.
Campaign records show Caller was an early supporter of Adams' mayoral bid. In December 2019, nearly a year before Adams officially announced his candidacy, Caller and his wife, Rivka Spitzer, made donations of $1,000 apiece to Adams' campaign. After Adams became an official candidate, the campaign returned $600 of Caller's own donation. That's because, due to his quest for city land use assistance for his Rockaway condo project, he is considered someone doing business with the city and limited to donations of $400 to candidates for citywide office. His wife's donation was unaffected.
One of the more disturbing allegations involved Ulrich's effort in 2022 to shut down a hotel housing the homeless because it enraged Caller, the real estate developer. Prosecutors say he made this corrupt effort to aid Caller at the same time he was negotiating to obtain a discount apartment across the street from the hotel from Caller.
At one point in March 2022, while he was a senior advisor to Adams, Caller let Ulrich know he wanted to shut down a hotel at 158 Beach 116th Street that was housing homeless adults because it happened to be across the street from and adjacent to two of his upscale rental buildings.
In a WhatsApp exchange captured by prosecutors, Caller wrote to Ulrich, "There has to be a way to put 158 B116th out of business. It's an absolute disgrace."
In response, Ulrich promised Caller to set up a "task force" of inspectors from the FDNY and the buildings department, writing, "They might be able to vacate the f...g thing. It'll take months to get it reopened."
Prosecutors described a conversation Ulrich had with a state Assemblymember described as Jane Doe #1. At the time, Stacy Pheffer Amato was the Assembly member representing the Rockaways.
Ulrich is alleged to have requested that the Assembly member demand an FDNY/DOB inspection of the hotel, and instructed the Assembly member "to make sure FDNY and DOB issue a full vacate order so the occupants can be moved by the New York City Department of Homeless Services into alternative housing."
Prosecutors say that shortly after several violations were issued at that address, but none involved a vacate order. Pheffer Amato did not respond to THE CITY's questions Wednesday about this exchange.
While Ulrich was targeting the homeless shelter, he was simultaneously discussing with Caller obtaining an apartment at a discount rate in a building across the street from the hotel, an upscale address at 133 Beach 116th Street, prosecutors say.
Caller then offered Ulrich an apartment for $2,000 a month, the lowest monthly rental in the building, and said Ulrich could apply the rental toward a down payment on the unit at a reduced rate. He also threw in the furniture and offered to void the closing costs.
Ulrich moved into the apartment about a week before he was named buildings commissioner. Just before the appointment was made public, he called Caller to advise that their communications would no longer be direct.
"We have to be smart," he said. "I have to be a little more careful because I can't be conflicted. If you have to communicate with me about something directly, about something concerning a property you own, maybe it's better if it comes from the councilwoman or the elected officials, so that we're working on it at their requests."