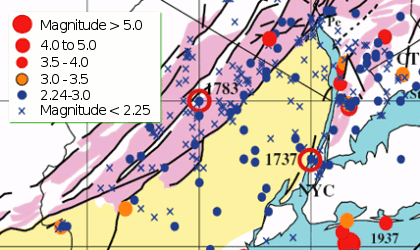 Most New Yorkers probably view the idea of a major earthquake hitting New York City as a plot device for a second-rate disaster movie. In a city where people worry about so much -- stock market crashes, flooding, a terrorist attack -- earthquakes, at least, do not have to be on the agenda.

A recent report by leading seismologists associated with Columbia University, though, may change that. The report concludes a serious quake is likely to hit the area.
Preparing for the Great New York Earthquake
Unreinforced brick buildings, which are the most common type of building in Manhattan, are the most vulnerable to earthquakes because they do not absorb motion as well as more flexible wood and steel buildings. Structures built on soft soil are more also prone to risk since it amplifies ground shaking and has the potential to liquefy during a quake.

This makes the Upper East Side the most vulnerable area of Manhattan, according to the consortium report. Because of the soil type, the ground there during a magnitude 7 quake would shake at twice the acceleration of that in the Financial District. Chinatown faces considerable greater risk for the same reasons.