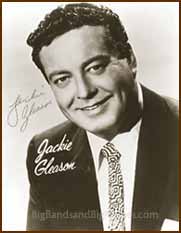 "In the TV show
The Honeymooners
, the address used for the Kramdens' and the Nortons' apartment building was "328 Chauncey St." in Bensonhurst.
Jackie Gleason's boyhood home was at 328 Chauncey St. in Bushwick. That property is currently
listed
." - Chris C.
Answers.com
says that "Bushwick" was changed to "Bensonhurst" for the show to make it sound more Brooklyn-y to those watching from other parts of the country.
According to
Classic Hollywood bios
:
Gleason patterned the Kramdens' apartment after the one he lived in with his mother as a boy..."The place was dull. The bulbs weren't very bright. The surroundings were very bare" remembered Gleason about his childhood home.
Perhaps a local street also served as an inspiration for the show's main character. Ralph Avenue is right around the corner from where Gleason lived his early years.
Photo from
Big Bands and Big Names
Map from
Mapquest
.