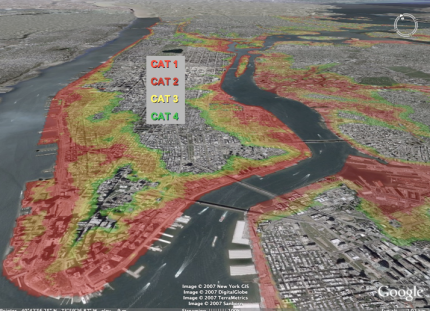 Columbia University promises that its new campus in West Harlem will boast tree-lined blocks, new outdoor cafes and glass-walled buildings where arts and research will flourish. There's one problem, though, according to Klaus Jacob, a special research scientist at Columbia's Lamont-Doherty Earth Observatory of Columbia University: It could all be underwater.

Under Jacob's worst case projections, more than half of the new campus could end up submerged by water if hit by the right storm.
A City by the Sea -- or Under It?
The changing climate threatens existing developments as well. The vast majority of damage resulting from this summer's flash floods were in Queens. After that storm, an underpass in Glendale was covered with 10 feet of water, raw sewage was forced up through people's toilets and sinks in Queens Village, and the tracks at Long Island Railroad's Bayside station were immersed.

Much of the area is on land that is low lying and getting even lower. Emily Lloyd, commissioner of the Department of Environmental Protection, has said that the water table in southeast Queens has risen 30 feet in 20 years, and now sits "just below the surface."

In March, the city government created a Flood Mitigation Task Force to identify hotspots for flooding throughout the borough by March. Some progress has begun, and last month the Department of Environmental Protection announced a six-year effort to build a drainage pipe for Whitestone.