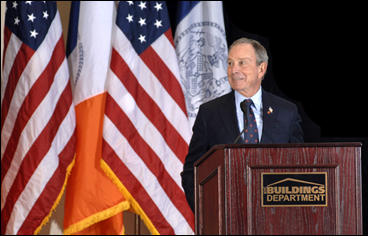 From an
HPD press release
:
Mayor Bloomberg has fostered a climate that encourages housing construction, including changes to the building and tax codes and an ambitious series of rezonings. Since the Mayor came to office, the City has moved to right the imbalance between population growth and housing construction. Since 2002 permits have been issued for 159,370 housing units, while the population has increased by only around 58,000 households. Continuing these kinds of surpluses is important to our efforts to close the current housing gap and prepare for the city to add another one million people over the next 25 years.

Seventy percent of the permits issued in 2007 were for units in the Bronx, Brooklyn, Queens and Staten Island. Thirty percent were for units in Manhattan. Since Mayor Bloomberg came to office seventy-four percent of new housing permits have been in the outer boroughs, compared to only sixty-two percent in the previous three decades. In addition, much of the new construction in the outer boroughs includes market-rate homes affordable to middle-income families.

The 2007 figures show that the number of permits issued for housing units in Manhattan, Brooklyn and Queens increased from 2006. Manhattan saw 9,520 permits in 2007 versus 8,790 in 2006; Brooklyn saw 10,930 permits in 2007—its highest total ever—compared to 9,191 in 2006; and Queens saw 7,625 permits in 2007—also its highest total ever—up from 7,252 in 2006. While the Bronx and Staten Island saw permit numbers decline, the Bronx still posted the fourth highest total in more than three decades.